Danish FA suggest FIFA withdrawal as Germany reveal threat of serious sanctions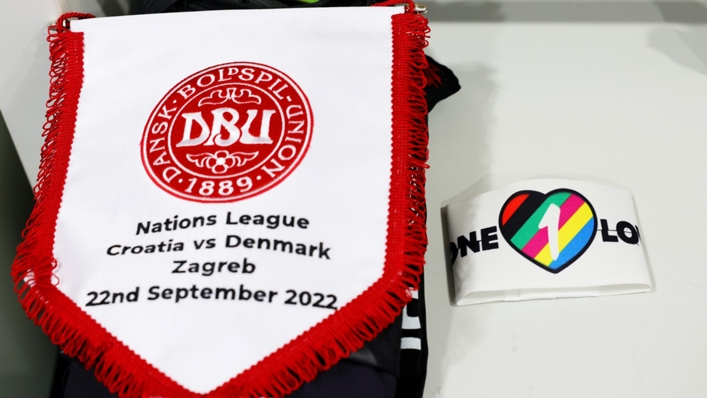 The Danish Football Association suggested a blanket withdrawal from FIFA as their German counterparts revealed they were threatened with significant sanctions if they wore the OneLove armband at the World Cup.
Denmark, alongside the likes of Germany and England, were among several European nations to commit to wearing the armband to promote an anti-discriminatory message in Qatar.
The decision to host the World Cup in Qatar has attracted severe criticism due to the country's stance on same-sex relationships, as well as the treatment of migrant workers.
However, the teams backed down from donning the armband ahead of their opening games at the tournament amid suggestions their captains would be booked upon kick-off.
FIFA's apparent unwillingness to permit an anti-discriminatory gesture has been met with stern opposition and Danish Football Union president Jesper Moller is in favour of a strong response.
Moller said: "There are presidential elections in FIFA. There are 211 countries in FIFA and I understand that the current president [Gianni Infantino] has statements of support from 207 countries.
"Denmark is not among those countries and we're not going to be either.
"[Leaving FIFA] is not a decision that has been made now. We have been clear about this for a long time. We have been discussing it in the Nordic region since August.
"I've thought it again. I imagine that there may be challenges if Denmark leaves on its own, but let us see if we cannot have a dialogue on things.
"I have to think about the question of how to restore confidence in FIFA. We must evaluate what has happened and then we must create a strategy – also with our Nordic colleagues."
The DBU's threat comes as German Football Association president Bernd Neuendorf suggested a yellow card was not the full extent of the sanctions FIFA had threatened to apply.
Neuendorf said: "Today, I can say here, we also got an answer from FIFA that goes exactly in this direction. That means the referee would have to react.
"FIFA has expressly stated in its letter that it reserves the right to appeal to the FIFA Disciplinary Committee in the case of such offences, in inverted commas, i.e., the wearing of the armband, which could then impose further penalties, so to speak.
"This has been expressly confirmed in writing."
Tags