Dalic hopes Modric plays on for Croatia through to Euro 2024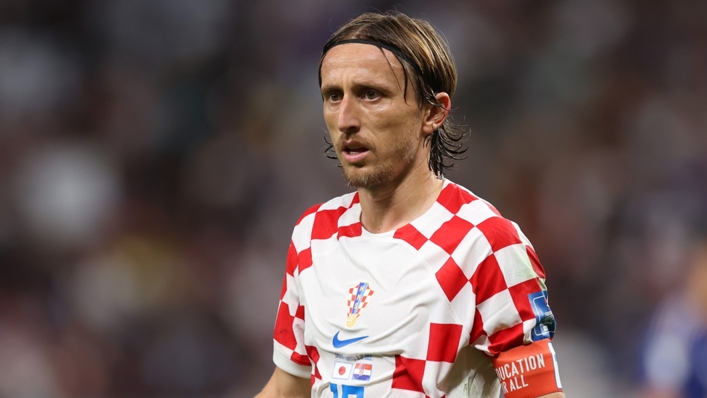 Zlatko Dalic is optimistic Luka Modric will play for Croatia at Euro 2024.
Modric won the Ballon d'Or after leading Croatia to the World Cup final in Russia four years ago, and the Real Madrid star enjoyed another fine tournament as Dalic's men reached the final four in Qatar.
However, the 37-year-old was unable to inspire his team to a semi-final victory over Argentina on Tuesday, leading to suggestions he may retire from the international game.
Modric refused to give anything away regarding his future after the defeat, and Dalic is hopeful he will stay on for at least another 18 months.
"I hope that he [Modric] will be there [at Euro 2024]," Dalic said. "I am looking forward to it.
"It is not certain that he will there be and he will personally decide how he feels. I personally feel that he will be, but it ultimately is his decision."
Croatia started their World Cup campaign with a 0-0 draw against Morocco in Group F, and they face the African side again in Saturday's bronze-medal match.
Walid Regragui's outfit have been the surprise package of the tournament, with Dalic comparing their stunning run to Croatia's surge to the 2018 final.
"Morocco remind me of us four and a half years ago," he said. "Nobody expected them to be this high, but they got to where they are with their quality and emotions.
"From game to game, they only grew and I think we are in for a much more difficult match than the one from the opening group.
"We have full and great respect for them. They show unity and are not afraid of anyone."
Morocco captured the imagination of football fans around the world during their World Cup campaign, which saw them stun Belgium, Spain and Portugal.
They suffered a 2-0 defeat to France in the semi-final on Wednesday and boss Regragui is struggling to get excited about the third-place play-off.
"It is a little bit difficult," he said. "It is very complicated for both teams. You are so disappointed; you have just lost a semi-final and then two days later you have to go back out there.
"It is like the booby prize. I'm sorry for speaking like this. I understand it should be important, I understand it is better to finish third than fourth, but, for me, my takeaway is just that we didn't get to the final.
"Even if we did get to the final, and I finished second, I would be saying the same thing to you.
"We want to be as positive as possible, especially for our fans. Finishing third would be great for our image."
Tags