Conte hits out at 'selfish' Tottenham players
Patric Ridge
Stats Perform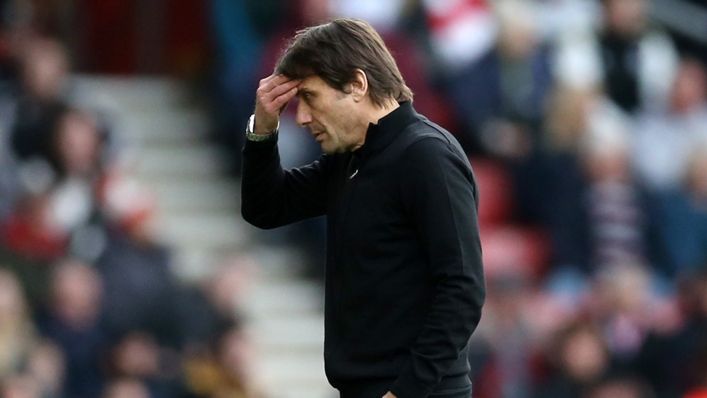 Antonio Conte did not hold back as he hit out at Tottenham's players following Saturday's 3-3 draw with Premier League strugglers Southampton.
Spurs led 3-1 in the closing stages at St Mary's Stadium, after Harry Kane and Ivan Perisic netted in quick succession.
Yet Theo Walcott pulled one back for Saints before James Ward-Prowse slammed home a contentiously-awarded penalty deep in stoppage time.
Tottenham have won just one of their last five league away games, and while they sit fourth, they are only two points ahead of Newcastle United having played two games more.
Conte, whose future at Spurs is far from certain, did not mix his words in his post-match media duties, labelling his players as "selfish" and accusing them of lacking fight.
He told reporters: "The problem is we have shown we are not a team. We are 11 players.
"I see selfish players. I see players that don't want to help each other, that don't play with heart."
Conte suggested the issue in his squad is something that has plagued Spurs since long before he arrived.
"The players don't want to play under pressure, don't want to play under stress. Tottenham's story is this – 20 years and they never won something. Why?" he asked.
"The fault is only the club or every manager that comes here? Until now I try to hide the situation. But there are 10 games to go.
"People think we can fight? Fight for what? With this attitude, this spirit, this commitment. For seventh? Eighth place? I am really upset."
Conte reiterated this sentiment when speaking to BBC Sport, saying: "We are winning 3-1 [with] 15 minutes to go and I think you have to win.
"I don't want to talk about the technical aspect, the spirit is missing. We are not a team. We are a team where everyone is thinking of himself.
"When you are in this way that can happen, you lose against Sheffield United and drop [out of] the FA Cup and with Milan [in the Champions League]. I don't see the sense of responsibility of the players.
"Now it's difficult – we are working hard with this group and to move in the right direction. We are going behind, I see a lot of negative situations and a lot of selfish situations and players that I don't like.
"I know the way to beat teams, in the past I beat a lot of teams, winning teams. I have great frustration about this because me and the staff stay every day to think of a way to improve.
"Honestly, it's time I have to take responsibility for me, the staff, the club but also the players. The players go onto the pitch, I'm the coach, OK I take the responsibility, the players have to take some.
"What happened in the last period is unacceptable and I tried every moment to speak to try to improve the situation and to transfer the importance to be a team and to help each other, but I'm not seeing this."
Conte concluded with a blunt summary of Spurs' campaign.
"In a process where you want to build something, the tactical aspect is important, but the spirit is important," he said.
"The mind has to stay focused and despite one and a half years, I saw much more last season.
"This season, we are going backwards."
Tags