Composure the key as Blues rally for three-goal comeback win over Lightning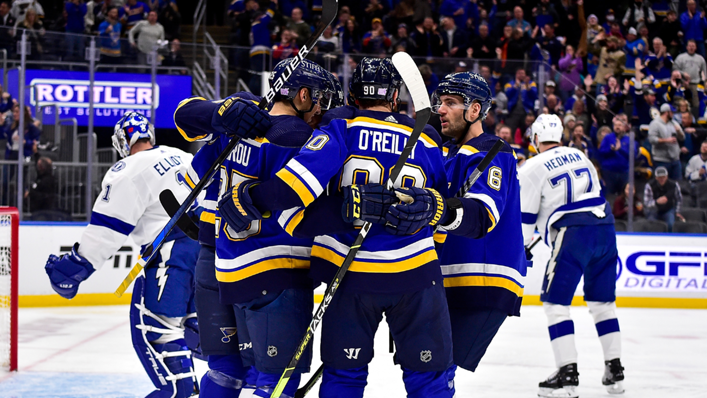 Composure was the key to the St Louis Blues stunning three-goal comeback after defeating back-to-back champions Tampa Bay Lightning 4-3 in a shootout win in the NHL on Tuesday.
The Blues trailed 3-0 at 5:29 in the opening period as Erik Cernak and Corey Perry scored five seconds apart for the Lightning.
St Louis rallied with two second period goals while Jordan Binnington made 30 saves and was perfect in the shootout.
Blues scorer Ryan O'Reilly told reporters: "The coaching staff was positive with us and had a good message of just sticking with it and build it up and knowing that there's a lot of game left. That's exactly what we did.
"I thought everyone did a good job at not being fazed. It's not what we wanted but it's a long game."
Blues coach Craig Berube said: "You've got to feel what's going on in the game. You've got to stay composed. I just told our team there's a lot of hockey, stay with it. we've got to get one back. Get some momentum going."
The Lightning had a chance to win the game in over-time after Blues forward Jordan Kyrou's penalty but could not clinch it.
"We went to overtime, we had our chances, but we didn't get it done," Lightning coach Job Cooper said. "We were a tired group at the end there."