Clippers clear Kawhi for five-on-five work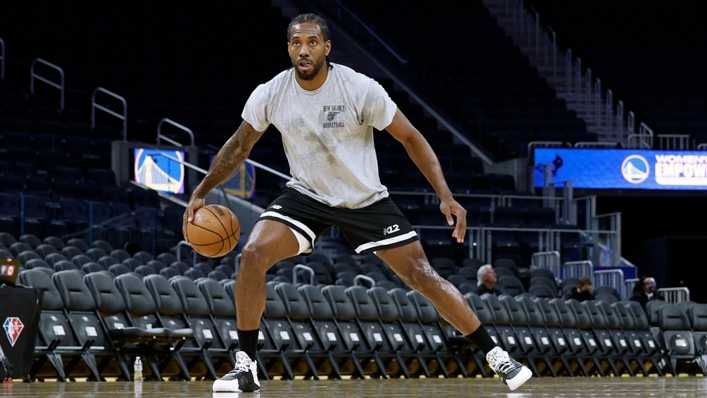 Kawhi Leonard appears to be well on his way back to an NBA court after missing the entire 2021-22 season as a result of suffering a torn ACL during the 2021 playoffs.
More than a year since his last competitive game, Leonard has been cleared to participate in five-on-five drills when the Los Angeles Clippers begin training camp next week, president of basketball operations Lawrence Frank announced Thursday.
The team, however, will ease Leonard back into the fold as he recovers from his knee reconstruction, taking a "cautious" approach.
"He feels great," Frank said. "His plan is, look, he wants to participate in everything. And I think organisationally, we're going to be cautious. So it will be a step-by-step approach."
Frank would not say if Leonard will participate in preseason games.
"When you're dealing with a major injury, you can't predict," Frank said. "I know with him, he wants to do everything, but we'll just kind of see how he feels each day. We have an outstanding medical team, and we're playing the long game with it. So we're not going to get into predictions, what he will do or he won't do.
"We'll figure out, is that best for his body? One day it may be. The next day, we'll have to reassess. We'll rely on the feedback we get from Kawhi, obviously from the medical team. It's too early to predict. We have time before we need to get there."
Regarded as one of the early title favourites, the Clippers' ultimate goal is to have Leonard at full strength next spring for a postseason run. Los Angeles is tied with the Golden State Warriors for the shortest title odds in the Western Conference at 7-to-1, according to FanDuel Sportsbook.
The other crucial piece to a potential playoff run for the Clippers is Paul George, who has been recovering from a torn ligament in his shooting elbow, but is ready to go, according to Frank.
"His elbow is 100 percent healthy," Frank said. "Paul has had an extremely purposeful, driven, and very productive off-season, in that his consistency of training has been off the charts. Plus, he continues to take more and more of an ownership and leadership role."