Super Bowl LVII: Reid ready to 'blank out the hype' against former team Eagles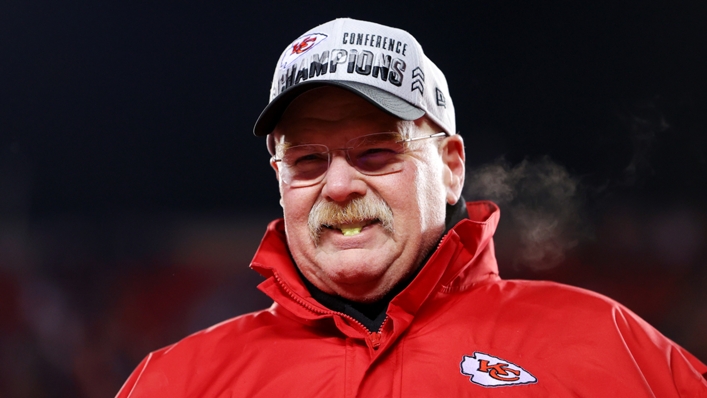 Andy Reid and the Kansas City Chiefs plan to "blank out the hype" ahead of Super Bowl LVII, as the coach prepares to face former team the Philadelphia Eagles.
The Chiefs booked their place at State Farm Stadium in Glendale with a 23-20 win over the Cincinnati Bengals in the AFC Championship Game on Sunday.
With their third conference title in four seasons, they will face their head coach's former employers in Arizona, with Reid having led the Eagles between 1999 and 2012.
Asked whether the emotional connection to his former team makes his work more challenging, Reid insisted his focus is squarely on the task at hand.
"When you really cut to the chase, they're a really good football team," he said. "So I think that's where [my] energy goes.
"That's where the major focus goes. It doesn't matter who you're playing, you try to blank out all the hype that goes with the game. It's a pretty big game for everybody.
"It's a big, big deal. It's the Super Bowl. But you try to blank that out and make sure that you're getting the game plan, [and] what really matters, together."
Reid reached one Super Bowl during his time in charge of the Eagles, though did not get his hands on the Vince Lombardi trophy until 2020 with the Chiefs.
Still, he remains an admirer of the Pennsylvania outfit while stressing he shares the love for his current home as well.
"I love Philadelphia, love the city," he added. "I've been blessed, blessed to be in [these] phenomenal places in the NFL. I'm loving every minute in Kansas City [too]."
Tags