In Focus: Why is clinical Giroud rarely a French fancy at Chelsea?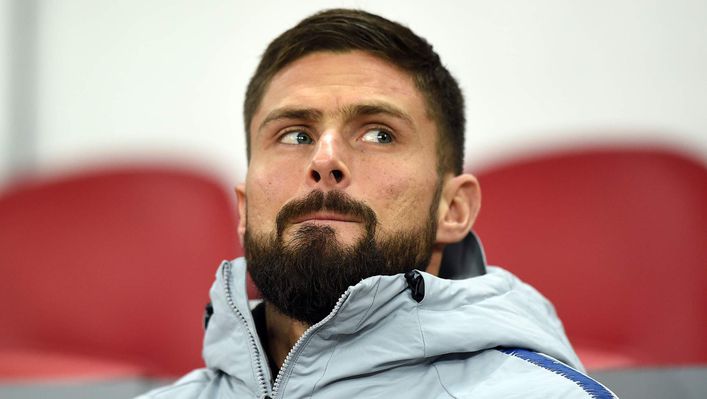 Thomas Tuchel's immediate impact at Chelsea suggests he is an effective problem solver — but the curious case of Olivier Giroud is one conundrum the German has yet to crack.
World Cup winner Giroud, 34, boasts an immaculate goal-to-game ratio over his last two campaigns at Stamford Bridge but frequently found himself overlooked by former Blues boss Frank Lampard.
After being benched by Tuchel for the second leg of the Champions League last-16 victory over Atletico Madrid on Wednesday, despite netting the only goal in the first encounter, the French forward could be forgiven for feeling a sense of deja vu.
Ahead of Chelsea's FA Cup quarter-final with struggling Sheffield United this afternoon, we turn the spotlight on Giroud's situation and explore whether his days are numbered in West London.
In and out
After being a key cog for many years at Arsenal, Giroud has largely found himself on the periphery since making the short hop across London in January 2018.
In fact, 39 of his 72 Premier League appearances for the Blues have come from the bench, offering some important context to what may look an underwhelming 17 strikes across four campaigns with them.
The Frenchman has tended to deliver when featuring from the first whistle — especially in recent times.
An impressive 11 of his goals have arrived in his last 18 league starts, highlighting that he is all the more effective when able to play his way into a contest.
A complete forward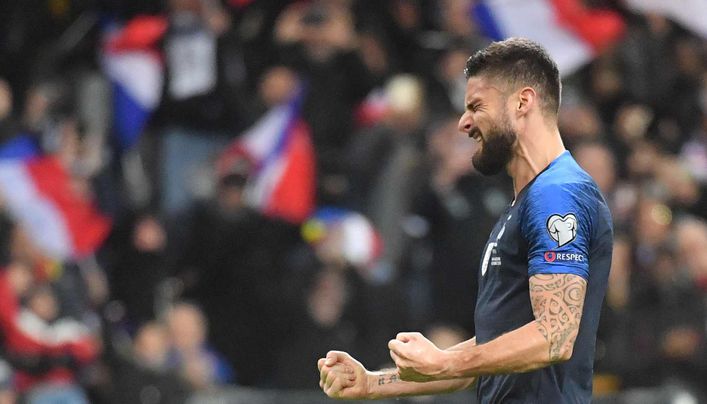 Strikers cannot solely be judged on their goal returns in modern football — and Giroud has long held a reputation as one of the game's most intelligent forwards.
A confident operator with his back to goal, he possesses great movement and link-up play that allows more dynamic players around him to flourish.
After all, this is a man who played 546 minutes of France's 2018 World Cup win without having a single shot on target.
Speaking during that tournament, while the likes of Kylian Mbappe and Antoine Griezmann were picking up most of the acclaim, Giroud took great pride in his selflessness.
He said: "When you are a striker like me, you always play for the team-mates.
"Obviously I prefer to have chances and score but, if I can make space for the others, I always try to choose the best option for the team.
"If we are world champions without me scoring, I don't mind."
Those in the Les Bleus camp were all too aware how much Giroud contributed to their eventual triumph.
Age only a number
In the twilight of his career, there is an argument that Giroud should be content with a more limited role at a powerhouse such as Chelsea.
However, the veteran has looked after himself better than most and remains as physically sharp as any Premier League forward.
That has not gone unnoticed by Tuchel, who was glowing in his praise after his match-winning performance against Atletico last month.
The German said: "If you see him [Giroud] on a daily basis, you cannot be surprised.
"He is totally fit, his body is in shape and his physicality is on top level. He trains like a 20-year-old, like a 24-year-old.
He is a guy who has a good mixture of serious and joy in training. He is always positive and it is a big factor for the group."
Prolific in Europe
Giroud's recent exclusion from the starting XI against Diego Simeone's men was even more baffling when factoring in his European record for the Blues.
With six goals in five Champions League appearances this season, only Erling Haaland has found the net with more frequency in 2020-21 — and this is not even the first time he has shown such prowess.
When you are a striker like me, you always play for the team-mates Olivier Giroud
Two years ago, the marksman effectively single-handedly led the Blues to Europa League glory, securing the competition's Golden Boot with 11 strikes in 14 outings, including a goal in their 4-1 rout of Arsenal in the final.
His four-goal masterclass against Sevilla in December was yet another magical moment to add to his glittering career highlight reel.
Writing on the wall
For all these positives, it may be the case that Chelsea have already made their mind up on Giroud.
The big-money arrivals of Timo Werner and Kai Havertz last summer left a dent in owner Roman Abramovich's deep pockets and Tuchel is naturally expected to get the best out of his fellow Germans.
Meanwhile, another man finding starts at a premium is Tammy Abraham — but the 23-year-old hitman at least has age and time on his side when it comes to forcing his way in.
Ultimately, money talks. With Giroud's contract up at the end of this season and re-sale value virtually non-existent, a parting of ways seems inevitable.
He will not be short of suitors — and Chelsea's loss could prove another elite side's gain.
Tags