Potter: Chelsea 'only 90 minutes from a crisis'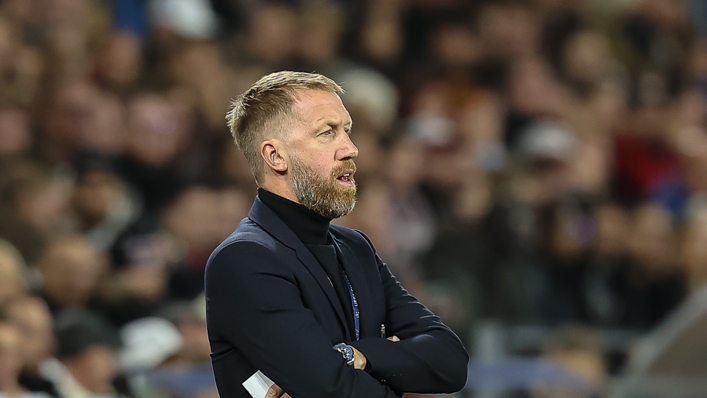 Graham Potter accepts he is always "90 minutes away from a crisis" as Chelsea's head coach, but is shutting out the noise following Saturday's 4-1 loss to Brighton.
Having gone unbeaten through his first nine games since swapping Brighton for Stamford Bridge in September, Potter suffered his first defeat as Blues boss against his old club.
Chelsea conceded twice as many goals in Saturday's resounding loss (four) as they did in their first five Premier League games under Potter (two), leaving the team open to heavy criticism.
Speaking at a press conference ahead of the Champions League fixture against Dinamo Zagreb, however, Potter said he is unaffected by external opinions.
"In my job, or where I'm sat, you've got to be careful what you listen to. People can talk and say whatever. It's just part of life," he said.
"You understand at a club like this, you're only 90 minutes away from a crisis and you have to put things into perspective.
"You have to understand where you've been and what has happened, and look at it as intelligently as you can.
"Whatever people say from the outside, there's always opinions, there's always people that don't like you, there's always people that will have a different view of how the situation is.
"You can't control that. All I can do is focus on how I think, what I think and how I act, and let the noise carry."
Although Chelsea lost ground in the Premier League last time out, they are yet to taste defeat under Potter in the Champions League (W3 D1).
If the Blues avoid defeat on Wednesday, Potter will become the first Chelsea boss to go unbeaten through his first five games in the competition since Roberto Di Matteo, who led them to the trophy after doing so in the 2011-12 season.
Tags