Casemiro the latest Brazil star to endorse Ancelotti for Selecao job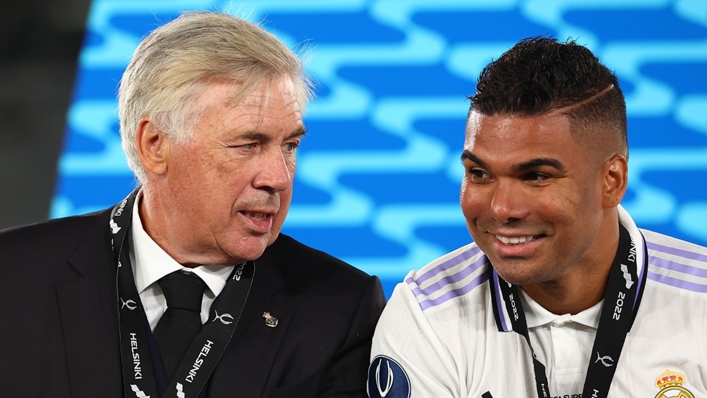 Casemiro is the latest Brazil player to endorse his former Real Madrid boss Carlo Ancelotti for the Selecao's vacant head coach position.
Brazil are yet to appoint a successor to Tite, whose six-year stint in charge came to an end after the five-time world champions were knocked out at the quarter-final stage of the 2022 World Cup by Croatia.
Ramon Menezes, who guided Brazil's Under-20s to South American U-20 Championship in February, has taken over on an interim basis for Saturday's friendly against Morocco.
The coach who has been linked with the full-time role the most, however, is Ancelotti.
Several Brazil players have openly approved his potential candidacy and Casemiro joined the chorus, though the former Madrid player reminded his team-mates of a need to respect Ancelotti's employers.
"Firstly, what we players would like to have is a capable coach with great players," Casemiro told reporters on Friday.
"We have 30, 40, 50 players of exceptional level. You could make three, four teams that could compete with any other team in the world.
"As far as Ancelotti is concerned, he is a coach that I already know, I know very well. He is a friend of mine, he is someone I have admired in football and it was a pleasure to work with him.
"But there is also another side to this; Ancelotti has a club, which is Real Madrid. We have to respect the club and Ancelotti."
He added: "Ancelotti has already won everything in his career. He is a coach with a lot of experience and, without a doubt Ancelotti is a great coach."
Casemiro was also careful not to completely rule Ramon out of the running.
A former Brazil international who enjoyed a 26-year professional career and has spent much of the past decade in various coaching roles, Ramon is not thought to be among the frontrunners for the full-time job.
But Casemiro pointed out the 50-year-old now has an opportunity to stake his claim and insisted the players are treating him as if he was there for the long term.
"We also have a coach here, who is Ramon," Casemiro continued. "He is not the permanent one, but he is here to play this game and we know that in life there are opportunities.
"Today, he is not permanent, but if he does a great job, [and] if the names that the president [of the Brazilian Football Confederation] wants do not accept, Ramon is there.
"From the moment I came here, I am respecting that and treating him as if he was the coach of a World Cup. Not only me, but all the players are respecting him because he is the coach now, and you have to have respect for the coach."
Tags