Butler says Heat have to play 'like our backs are against the wall' after Game 4 loss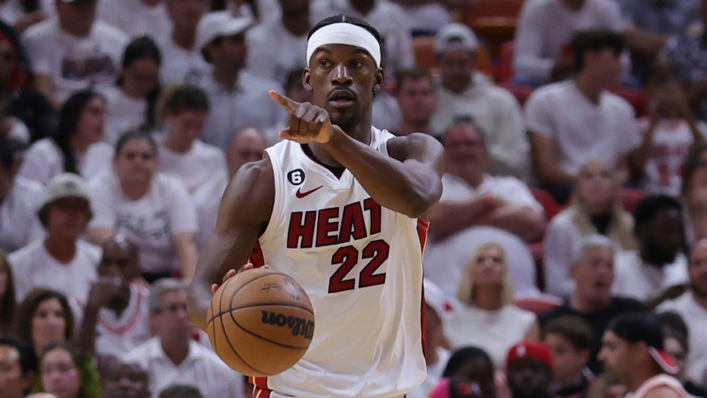 Jimmy Butler says the Miami Heat must play with more energy and like their backs are against the wall when they next face the Boston Celtics.
The Heat missed the chance to progress to the NBA Finals as they lost 116-99 to the Celtics on Tuesday.
Miami now hold a 3-1 series lead in the Eastern Conference finals, ahead of Game 5 in Boston on Thursday.
But for Butler, who scored 29 points and added nine rebounds and five assists, there is no reason to be downhearted.
"If anything, it will build momentum for us knowing that we have to play with a lot more energy," Butler said.
"We've got to play like our backs are against the wall.
"I think all year long, we've been better when we've had to do things the hard way.
"We'll be OK. Let's get back to doing what we've always done to get us to this point, continually have belief in one another, knowing that we are going to win, and we will. We've just got to play harder.
"There's not too much to say with this group because we already know. So we've just got to go out there and execute."
Butler's sentiment was echoed by Miami coach Erik Spoelstra.
"At some point, this is great competition. You know, sometimes it can get skewed, because, whatever, the 3-0," he said.
"But we have great respect for Boston, what they are capable of. They are a dynamic offensive team that takes extraordinary efforts and commitment to get the job done. Our guys really want this.
"A lot of what we've done this year has been the hard way. We've been able to figure out ways to win, even if teams are playing well, if we are not in a perfect flow.
"They got us tonight. You have to give them credit for that."
"It's definitely disappointing," said Heat guard Caleb Martin.
"That would have been a perfect world, perfect situation. But as we know and everybody else knows, we don't typically get things the easy way over here.
"So like I said, this is right up our alley. This is the way it goes for us and guys like us. Again, I think it's only going to prepare us for the long run. This could be good for us."