Busquets: Barcelona didn't deserve to lose El Clasico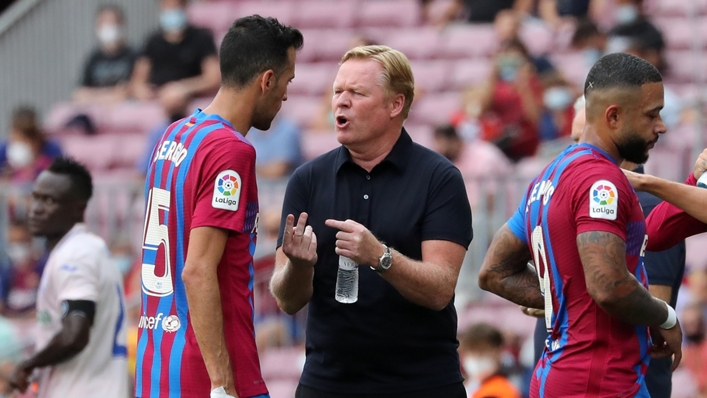 Barcelona midfielder Sergio Busquets believes his side deserved more after losing 2-1 to Real Madrid in the first Clasico of the season 2-1 on Sunday.
David Alaba and Lucas Vazquez gave Madrid a 2-0 lead before Sergio Aguero grabbed a late consolation for Barca deep into added time.
The defeat was Barca's fourth consecutive Clasico defeat across all competitions - their longest losing run in the fixture since seven losses in a row between April 1962 and February 1965.
Busquets, 33, felt that the Blaugrana should not have ended up on the losing side, but were undone by conceding the first goal.
"They got it right in the first part and we didn't," Busquets said to Barca TV post-match. "We knew they were going to let us have the ball but they had speed with Rodrigo and Vinicius.
"In a team with these characteristics, when you lose the ball it is difficult to recover. And they have scored a goal in a kick, not in a play. That changes the game completely. I don't think we deserved to lose, but that's football.
"When there are games of these characteristics, the one who scores first has the advantage. In the second half, we had possession and control, but we had not made clear chances."
Busquets refused to blame the referee for the result and insisted that Barca remain positive despite being five points behind the top three.
"Yes, I have seen [the controversial incidents], but it does not matter," Busquets continued. "The referee has been good in general lines and I am not going to respond to the controversies.
"A small gap [in the table] is opening but I think we are growing little by little. Now we are going to recover Ousmane who will give us things in attack. We have to continue."
Barca head coach Ronald Koeman - who has now lost five games against Real Madrid (three) and Atletico Madrid (two), as many as in the previous nine seasons in the competition - agreed with his veteran midfielder, insisting that his men played well but that going behind allowed their opponents to play on the break.
"It is always difficult to understand a result like this because we made merits to have another result, especially in the first half," Koeman said.
"It depended on a very clear chance to have 1-0 and instead, they scored 0-1, then it was complicated because they defended the result and we knew that is very dangerous.
"The crowd was phenomenal until the last second, we tried but we didn't get the result we wanted. We were good in the first half. We had a lot of ball possession."
Tags