Bundesliga 2022-23: Bayern nailed on as returning big names face battle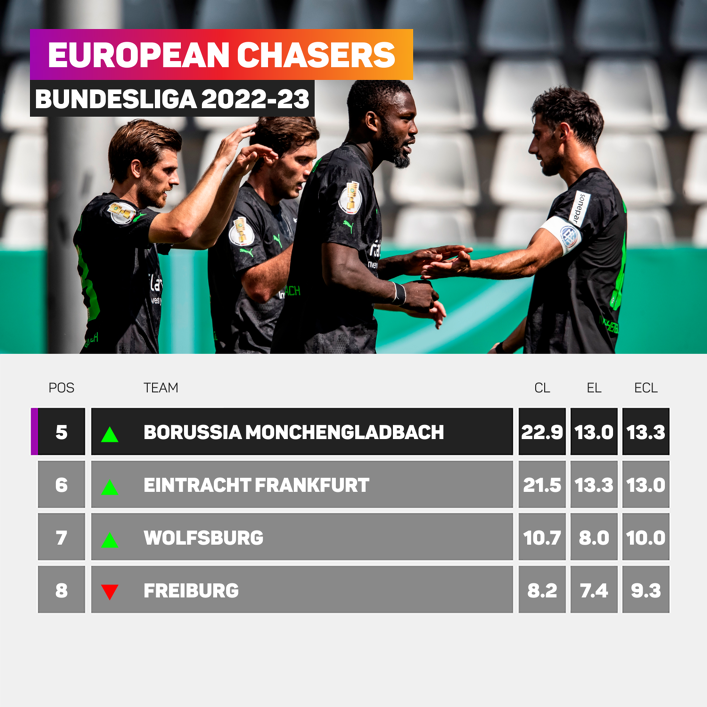 Another Bundesliga campaign kicks off on Friday after a frantic close-season saw Germany's top flight robbed of its two biggest stars.
Bayern Munich superstar Robert Lewandowski left for Barcelona, while fellow striking sensation Erling Haaland departed Borussia Dortmund as expected for Manchester City.
What do these moves do to shake up the Bundesliga, then? Perhaps not an awful lot...
Stats Perform AI has predicted the outcome of the coming campaign, estimating the likelihood of teams finishing in each position informed by their expected results in each match.
These are calculated using betting odds and Stats Perform's team rankings – based on historical and recent team performances – and have thrown up some interesting results, even if the title race is a little too predictable.
MANE TO MAINTAIN BAYERN DOMINANCE
Lewandowski's exit was offset by the arrival of Sadio Mane at Bayern, and Stats Perform AI expects Julian Nagelsmann's side to again charge clear at the top of the table.
Bayern have won 10 consecutive titles, so perhaps it is no surprise they are given an 84.93 per cent chance of taking the trophy home again in May.
That figure makes Bayern the most likely champions across all of Europe's top five leagues, with nearest contenders Dortmund only in with a 6.01 per cent shot.
RB Leipzig (4.64 per cent), Bayer Leverkusen (3.38 per cent) lead a group of 10 other clubs who are given at least a slim hope of winning the championship.
For six teams – including 2003-04 champions Werder Bremen and 2006-07 victors Stuttgart – their title tilt is over before a ball has even been kicked.
SCRAMBLE OUTSIDE THE TOP FOUR
Unfortunately, the top-four tussle appears as predictable as Bayern's coronation.
The champions will of course occupy one Champions League spot – their 99.53 per cent chance again the greatest across the top five leagues – while Dortmund (76.78 per cent), Leipzig (72.2 per cent) and Leverkusen (62.98 per cent) also look secure, forecast second, third and fourth respectively.
That means a return to Europe's elite competition for all of those who have qualified this year, even if Leipzig have leapfrogged Leverkusen.
Stats Perform AI suggests Union Berlin (4.66 per cent) and Freiburg (8.22 per cent) – one and three points outside the top four last term – have missed their shot, with Borussia Monchengladbach (22.94 per cent) and Eintracht Frankfurt (21.5 per cent) the most likely gatecrashers despite last season finishing 10th and 11th.
Eintracht are also in the Champions League this term after winning the Europa League, but they are considered the team most likely to return to the second-tier competition (13.32 per cent).
There could be a real scrap for those final European places, though. All but four teams have at least a 1.0 per cent likelihood of qualifying for the Europa Conference League, with title favourites Bayern one of those four.
SCHALKE AND WERDER FACE A FIGHT
Schalke and Werder – two of the great names of German football – have returned to the top flight following successful promotion campaigns in the 2. Bundesliga last season, but they face tricky first seasons back in the big time.
The ceiling for Schalke is a little higher, so Stats Perform AI has them finishing in the relegation play-off place in 16th.
This is despite two teams – Augsburg (14.02 per cent) and Werder (13.9 per cent) – being more likely to qualify for that play-off than Schalke (13.3 per cent).
Werder are ranked 17th, while the outlook for Augsburg is awful; 14th in the Bundesliga in 2021-22, they have a new coach in ex-Dortmund II boss Enrico Maassen and are considered a strong 38.19 per cent shot for relegation.
Bochum (30.84 per cent) are also in a little trouble, with Hertha Berlin (11.62 per cent) backed to pull away and finish 12th after their play-off scare last time out.
Tags