Bremer reveals Juve crisis talks after embattled giants reach Coppa Italia semis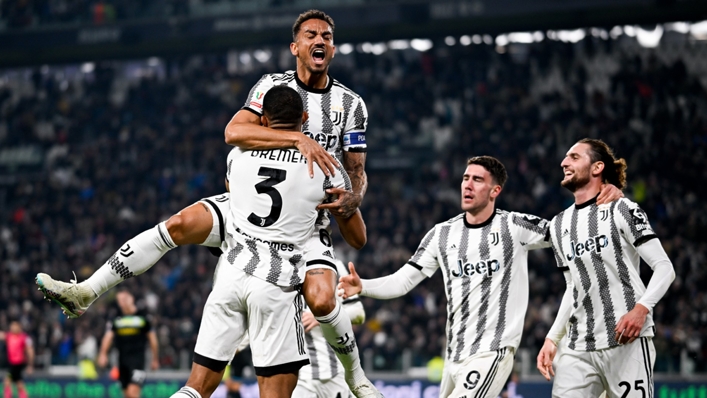 Gleison Bremer said his Juventus team-mates have pledged to ignore the Bianconeri's off-pitch woes after scoring the winner in Thursday's Coppa Italia quarter-final against Lazio.
Bremer diverted Filip Kostic's cross home with a glancing header on the stroke of half-time as Juve clinched a 1-0 win over the Biancocelesti, teeing up a semi-final tie against Inter.
The win provided welcome relief for a side sitting 13th in Serie A after being issued with a 15-point deduction last month, a sanction which has been compounded by a three-game winless run in the league.
Speaking after his goal sent Juve to their eighth Coppa Italia semi-final in nine seasons, Bremer admitted off-pitch issues had impacted the team in recent weeks, but revealed the squad's pledge to rediscover their focus.
"I'm happy with this goal, but it was important to go through at this moment," the Brazil international told Mediaset.
"We know we've played two games not up to par, but we talked to each other and what happens off the pitch cannot spill onto the pitch. The club will take care of it, we will take care of the pitch.
"Juventus are a top-level team, let's score as many points as possible and see where we'll be at end of the championship.
"At the beginning of the year we lost a little something, then we spoke and we found each other."
Since the Coppa Italia quarter-finals became one-legged affairs in the 2008-09 season, Juve have won nine of their 10 such fixtures at home, the only exception being a 2011 defeat to Roma.
Coach Massimiliano Allegri hailed Juve's mentality after the hard-fought victory, highlighting the improvements made since Sunday's shock defeat to Monza.
"The most important thing is the attitude, which was missing in the first half against Monza, where we conceded two easy goals," Allegri said.
"The boys were good. They are responsible. They must understand that to win matches, in addition to tactics and technique, you need the right spirit.
"Today we won many tackles, we arrived first in duels, we defended well and played in an orderly and patient manner against good pressure from Lazio."
Juventus were without Paul Pogba for Thursday's win, with the midfielder seeing his second debut for the club delayed once more after suffering another minor injury.
Allegri does not expect him to return against Salernitana on Tuesday, saying: "Pogba is unlikely to be available in Salerno, because he's been doing little or nothing for a week. We hope to have him back as soon as possible because he's a player we count on.
"I've been in the world of football for 50 years. When things go against you, then you have to be patient to get out of it."
Tags