Braves hit three homers off deGrom as they beat the Mets, Pujols hits 701st home run
Liam Phillips
Stats Perform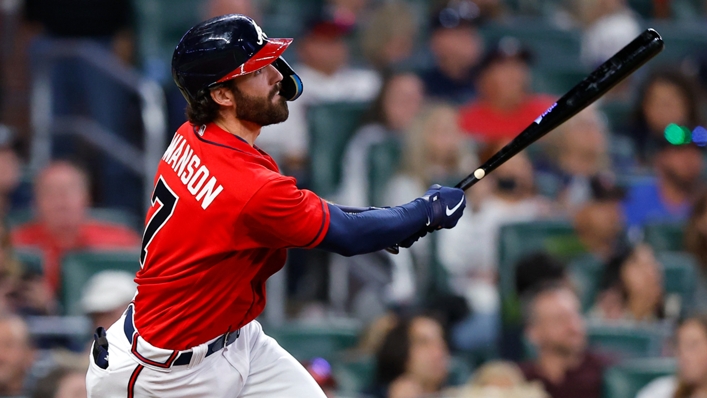 Jacob deGrom's 11 strikeouts were not enough to deliver a result for the New York Mets, going down 5-2 on the road to the Atlanta Braves on Friday.
DeGrom, arguably the best pitcher in all of baseball, made it through six full innings while allowing five hits and no walks. Unfortunately for him, three of those hits travelled at least 422 feet each for a trio of monster home runs.
After Luis Guillorme gave the Mets a 1-0 lead in the second inning, the Braves' top power bat responded instantly, with Austin Riley sending a solo home run 422 feet to center-field later in the frame. The Braves then took the lead before the second inning ended with a 430-foot bomb from Matt Olson to center-field.
Atlanta's pitching dominated the middle portion of the game, holding the Mets scoreless between the second and eighth innings, and Dansby Swanson took the opportunity to give his side a couple of runs of breathing room when he smoked a ball 441 feet to make it 3-1 in the sixth frame.
An eighth-inning Tomas Nido home run proved to be just a consolation as the Braves closed things out with Kenley Jansen's 38th save of the season.
After this result, the Braves and the Mets are now tied for the second-best record in the National League at 98-59, and they have two games remaining in the series.
The baseball world stopped and applauded Albert Pujols for his 700th home run earlier this week, and he added one more to his tally in the St Louis Cardinals' 2-1 win over the Pittsburgh Pirates.
Pujols' big swing came in the fourth inning with his side trailing 1-0, hooking a ball 398 feet over the left-field wall to tie the game. Nolan Arenado then delivered what ended up being the winning run with an RBI single in the fifth.
The 42-year-old future Hall-of-Famer trails only Barry Bonds (762), Hank Aaron (755) and Babe Ruth (714) for the most home runs in history.
Guerrero, Springer homer in Blue Jays win
Vladimir Guerrero Jr and George Springer treated the Toronto Blue Jays fans to some big hitting in their 9-0 home win against the Boston Red Sox.
With the Red Sox eliminated from the playoff hunt and the Blue Jays marching towards a big October, the two sides played to their records as Alek Manoah and Yusei Kikuchi combined to pitch a shutout.
Guerrero hit one of the longest home runs of the week with his 447-foot nuke to left-field, and Springer was not much shorter, launching his shot 431 feet.
Tags