Brady's Buccaneers hold off Eagles for third straight win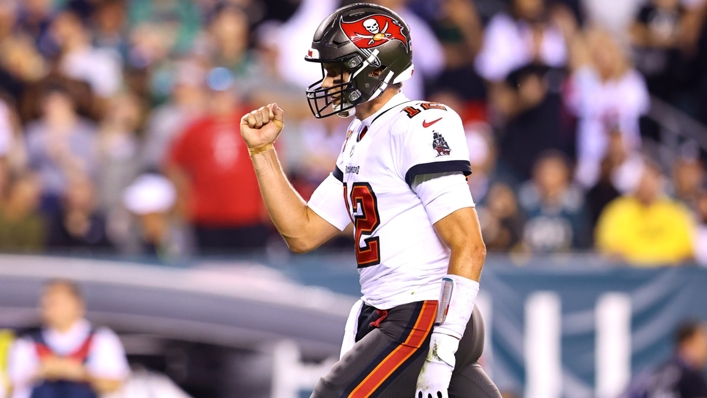 Tom Brady and Super Bowl champions the Tampa Bay Buccaneers won their third consecutive game after outlasting the Philadelphia Eagles 28-22.
Brady threw two touchdowns as the in-form Buccaneers held off the fast-finishing Eagles, who fought back from 28-7 down in Philadelphia on Thursday.
Despite playing without star Rob Gronkowski and losing cornerback Richard Sherman to a hamstring injury early in the first quarter, the Buccaneers survived to make a 5-1 start to the season for the first time since 2005.
Brady – playing with an injured thumb – made a red-hot start on the road, tossing touchdown passes on Tampa Bay's first two drives while going 11-of-12 passing for 121 yards.
The seven-time Super Bowl winner finished 34 for 42 for 297 yards, two touchdowns and an interception without being sacked.
O.J. Howard and Antonio Brown caught passes from Brady in between Jalen Hurts' TD throw to Zach Ertz for the Eagles in the opening period.
The Buccaneers took a 21-7 lead into half-time courtesy of Leonard Fournette's two-yard run and he stretched the lead with less than six minutes remaining in the third quarter after another run.
Hurts – who finished 12-of-26 passing for 115 yards, one touchdown and an interception while he rushed for 44 yards on 10 carries – tried to spark a comeback for the Eagles, rushing for two TDs having last week become the first quarterback with two rushing touchdowns in a win for Philadelphia since Mike Vick in 2010.
But Brady and the Buccaneers held on to continue their quest for back-to-back Super Bowls.