Brady a 'good bet' to be first-ballot Hall of Famer
Patric Ridge
Stats Perform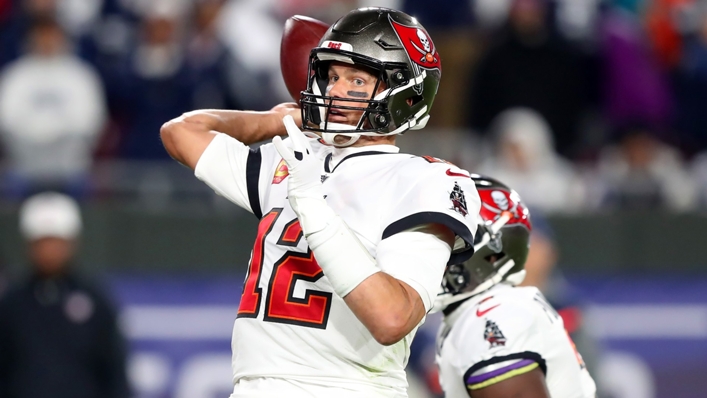 Tom Brady is a "good bet" to be voted into the Pro Football Hall of Fame at the first time of asking, though he will still have to wait five years.
Brady called time on his playing career on Wednesday, a year on from retiring for the first time.
While that stint out of the game only lasted 40 days, the legendary quarterback – a seven-time Super Bowl champion – said he was retiring "for good" this time around.
Brady is sure to go down as one of the greatest athletes of all time, though that does not mean he will be able to skip any queue in order to become a Hall of Famer.
Indeed, while Hall of Fame chief communications officer Rich Desrosiers believes Brady will make it into the Hall of Fame on his first ballot, the earliest that will come will be 2028.
"Even Tom Brady has to wait, even Peyton Manning had to wait," Desrosiers told Stats Perform when asked if Brady could be fast-tracked into the Hall of Fame.
"There's some others that we can assume will be or would have been first ballot types of people – Peyton Manning, one that I mentioned, this same conversation came up with him.
"You've got a couple of guys out there whose clocks are running: a Larry Fitzgerald, let's say a Drew Brees.
"I think many people assume they'd be first-ballot guys. It's just something the hall doesn't want to do, because then you've created a precedent, you've established a line, and who's making that determination?
"It's also unfair to the people who are queued up right now to be part of the class of 2024. If Tom were to have the five-year mandatory waiting period waived, then he's really knocking someone else out of the class of 2024, who has been waiting to get in, and we have many players who are on their second, third, fourth, fifth, even 10th year of eligibility.
"[If] all of a sudden, you're just saying, 'we're going to let somebody jump that line', you've displaced somebody else who's gone through the process. So it's not going to happen."
Asked if Brady will be into the Hall of Fame as soon as he can, Desrosiers said: "I would think so. Right now, we have 49 selectors.
"These are 49 mostly active journalists from around the country. They meet and consider the candidacies and each person who's up for election has a presenter who presents the case for the person under consideration.
"The debate might last five minutes 10 minutes, 20. There's been debates on candidates that have gone into 25-30 minute range when you really are starting to weigh this person against that person in the past, and I think it may have started with Brett Farve – Brett's presenter stood up and said two words – 'Brett Farve' and sat back down.
"It happened again with Peyton Manning, and I'm pretty sure that whoever is the presenter for Tom Brady will take a similar approach. They'll just say, 'Tom Brady', sit down.
"Nothing can ever be assumed. But it's probably a pretty good bet."
On Brady's illustrious career, Desrosiers added: "There's people far more talented than I am in debating those things. We'll let them debate that but it's hard to argue with seven Super Bowl championships, five Super Bowl MVPs, he's virtually passing every record, whatever number you want to throw out there.
"He's at the top or near the top of every offensive statistical category there is and a winner, and the longevity – there's plenty of boxes, you can check on the side of the ledger that says greatest of all time for sure."
Tags