Blackhawks dismiss coach Colliton amid NHL struggles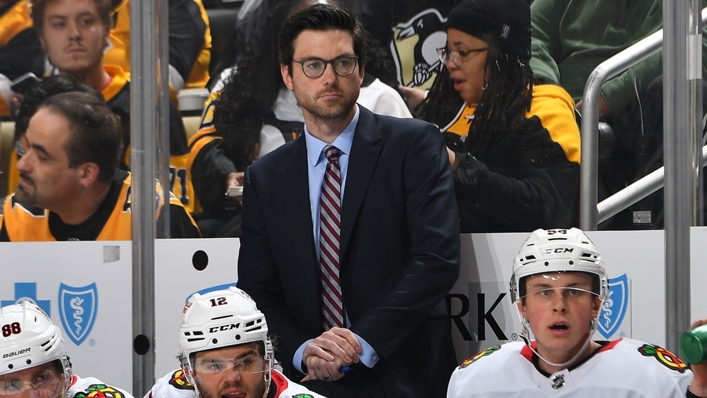 The Chicago Blackhawks fired head coach Jeremy Colliton following their poor beginning to the NHL season.
Colliton lost his job amid the Blackhawks' 1-9-2 start to the season, which came to a head after Friday's 5-1 defeat to the Winnipeg Jets as Chicago turned to Derek King on an interim basis.
The Blackhawks had lost their opening nine games of the 2021-22 campaign and entered Saturday's allowing the second-most goals per game (3.92), while scoring the fourth-fewest goals per game (2.17).
Colliton, who signed a two-year extension through the 2022-23 season in January, oversaw an 87-92-26 record in four campaigns with Chicago, where he was 4-5 in the 2020 Stanley Cup playoffs.
"This team has a lot of talent-talent that I am familiar with from my time in the organisation-and I look forward to working with them behind the bench," King said in a statement.
"I appreciate the support from Kyle Davidson and Danny Wirtz through this process and I cannot wait to get going. I understand my role and position and ready to do the work necessary to help the organisation succeed."
It has been a challenging period for the Blackhawks, who saw president of hockey operations Stan Bowman resign earlier this week after a report into the team's response to allegations of sexual abuse in 2010.
The 107-page report, conducted by law firm Jenner & Block, investigated the Blackhawks' handling of an allegation from a former player that he was sexually assaulted by then video coach Brad Aldrich during the team's Stanley Cup playoff run.
Jenner & Block was hired by the Blackhawks after the player – revealed to be Kyle Beach – filed a lawsuit against the team in May of this year.
"It has been an extremely difficult couple of weeks for our organisation, and we have had to come to terms with a number of necessary changes. As we look to move forward, we know we must earn back the trust of our fans, and we are grateful for the support of our entire community as we work to do just that," said Blackhawks CEO Danny Wirtz.
"On the ice, interim general manager Kyle Davidson has our full confidence and autonomy to make hockey decisions, and we support him on this coaching change. We appreciate all that Jeremy has brought to the Blackhawks, and we look forward to working with Derek as our interim head coach while we work to rebuild our permanent hockey operations leadership."