Dodds says Inverness' Scottish Cup hero Mckay is better than ever
Anthony Brown
Press Association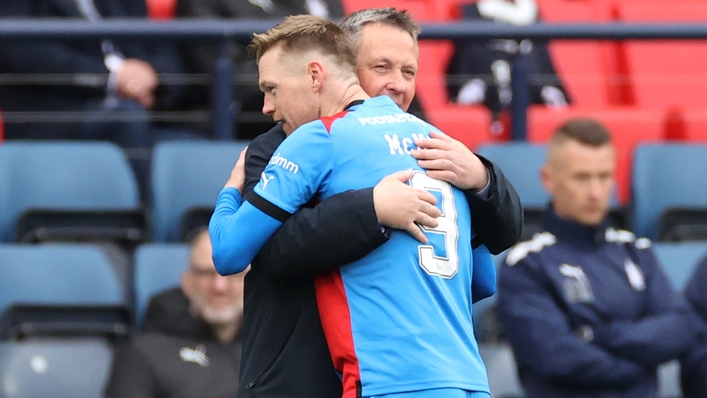 Billy Dodds believes Billy Mckay is in the form of his life after the veteran striker took his Inverness tally to 100 goals with a double in Saturday's 3-0 Scottish Cup semi-final victory over Falkirk.
The 34-year-old opened the scoring with an early penalty and then brought up his century for Caley Thistle with a clinical close-range finish in the second half after Dan MacKay had doubled the Highlanders' lead.
Manager Dodds praised the forward – in his third spell at the club – for the way he has adapted his game to remain prominent.
"Billy is a credit to himself with his fitness levels because he is mid-thirties," he said.
"A few months ago I had a chat with him and it was for his own good. I asked him to be a bit more all-action and he has taken it like a sponge, he's just soaked it all up.
"He's always had the goals, no problem with that. When he gets those chances, the penalty and the cross, I know they are going in because he is a finisher.
"But he is working his socks off and he is a different player. I know we all got better with age but Billy is a better player now than he has ever been."
Dodds was pleased with the way his team took control of the match despite not being at their best in the first half.
"I thought we were magnificent, especially as the game wore on," he said.
"It was never straightforward and I have to credit Falkirk. I thought they were really good in the first half, causing us problems with their diamond.
"We didn't pass the ball as well as we could in the first half but we were ruthless and we got the two goals.
"As the game wore on, I was more confident in the boys. I thought they were really good in the second half."
Inverness will return to Hampden on June 4 to face the winners of Sunday's semi-final between Rangers and Celtic and Dodds is adamant his team will feel they can cause an upset.
"I've never turned up to a game and thought 'we can't win', that would be madness," he said.
"Of course, we are going to enjoy the day and of course it's a big ask against one of the Old Firm.
"But we're hoping not to just turn up and take part in the final and that's it.
"I've got good players and if we're right at it then we can give anybody a game, as we have proven against Livingston and Kilmarnock."
Falkirk boss John McGlynn felt his League One side played the better football after recovering from an "absolute disaster" of a start but he conceded their Championship opponents showed their superior quality in front of goal.
"We had opportunities, but at the other end one great, quality ball in and (Dan) Mackay scores with a header," he said.
"That's the difference in the game. Our guys worked hard, they kept trying to find a way through but we couldn't finish anything.
"They are the in-form team in the Championship. They have won 3-0 and it is very hard to get away from that but I honestly felt we were the better footballing team."
McGlynn had sympathy for Leon McCann after a cross struck the left-back's hand in the fifth minute, with a penalty awarded to Inverness following a VAR check.
"I don't think he could have (done anything differently)," he said. "He was turning away instinctively and his arm was there. I am not saying it wasn't a penalty but for me it is soft.
"It is a sore one to take. It was so early you don't get your foot in the game."
Tags