Benzema altered his 'game and ambitions' when Ronaldo left Real Madrid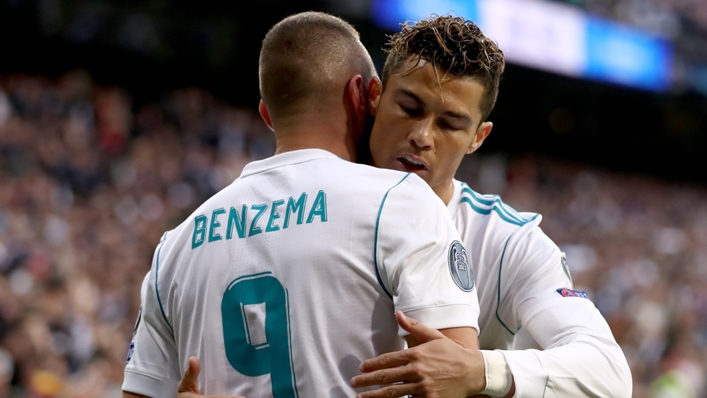 Cristiano Ronaldo helped Karim Benzema "on and off the pitch" while at Real Madrid, but Los Blancos' current talisman knew he could do more when his former team-mate departed.
Ronaldo is Madrid's all-time leading goalscorer, having netted 450 times in all competitions between 2009 and 2018, when he joined Juventus.
Benzema has since picked up the mantle, however, scoring a remarkable 131 goals in the past four seasons. While Ronaldo's Manchester United future is in doubt, his old strike partner is thriving.
Of players in Europe's top five leagues last term, only Robert Lewandowski (50) – who will go up against Benzema in LaLiga after his switch from Bayern Munich to Barcelona – scored more goals in all competitions than the France forward, who averaged a goal every 88 minutes.
Asked ahead of the Super Cup clash with Eintracht Frankfurt whether Ronaldo's exit had directly benefited his own form, Benzema told a news conference: "It's true I've scored more goals but when Cristiano was here we had a different style, I provided more assists and he helped me on and off the pitch.
"I knew I could do more [at the time] and when he left it was the time to change my game and ambitions, I'm doing that at the moment."
Benzema's form has seen him emerge as a favourite to win this year's Ballon d'Or, a bid only strengthened by Madrid's success in LaLiga and the Champions League last campaign.
But the striker is simply focused on his team's exploits, adding: "I'm not like that in terms of whether I'm the best or not, I always give my all for this club, the best club in the world.
"I have to give more and more every year, it's true I had a very good season, but other people can comment on if I'm the best in the world. I'm focused on helping my team in matches, that's all I can say.
"I'm not thinking about [the Ballon d'Or], there's trophies to win every year, that's very important. I always stress the importance of success for the team that leads to individual success."
For Madrid coach Carlo Ancelotti, there is little doubt that he has the best forward in world football at his disposal.
Asked if Madrid, who wanted to sign Kylian Mbappe before Benzema's compatriot signed a new deal with Paris Saint-Germain, needed to bring in a back-up striker before the transfer window closes, Ancelotti replied: "We have strikers, plenty of them. Benzema, Mariano [Diaz], [Eden] Hazard, Rodrygo, Vinicius [Junior], have I forgotten any?
"When you're missing the best striker in the world, there are alternatives, but it's impossible to replace Benzema, no player in the world can replace Karim. If anything happens, we will adapt."
Tags