Costa 'will not cry' for Fernandez after World Cup winner forced Chelsea move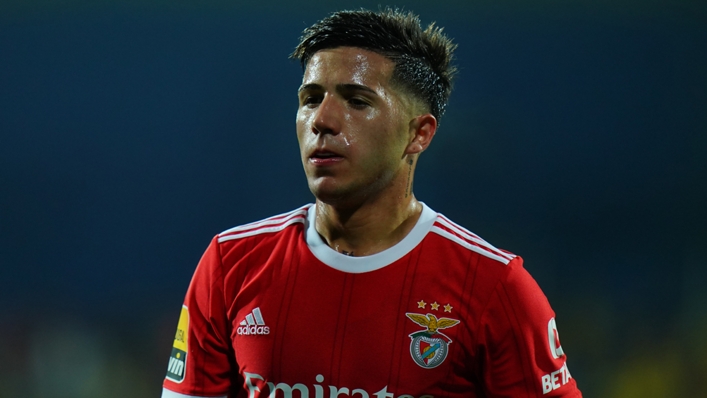 Benfica president Rui Costa has no regrets over sanctioning Enzo Fernandez's record-breaking move to Chelsea, saying the World Cup winner forced the transfer through his desire to leave.
Chelsea made Fernandez the most expensive acquisition in Premier League history on the final day of the January transfer window, meeting the £106.8million (€121m) release clause in his Benfica contract.
While Fernandez's arrival took Chelsea's spending to a reported £288.5m in January alone, the fee surpassed the £100m Manchester City spent to sign Jack Grealish from Aston Villa in 2021.
Benfica coach Roger Schmidt said Fernandez was unsettled by Chelsea's interest earlier in the month, and Costa admits the player's desire to leave left the Lisbon giants powerless.
"Everything was done to ensure that Enzo was not sold. I have a clear conscience and I am as sad as any Benfica fan," Costa told BTV on Thursday.
"We tried everything. Enzo has always shown a desire not to stay at Benfica.
"As a fan, I no longer wanted Enzo as a player. As president, he could not continue. I decided he had to leave.
"Commitment to Benfica is not beating your chest. In Arouca [a 3-0 win on Tuesday] we played without Enzo.
"We lost a great player, but I will not cry for a player who did not want to stay at Benfica. I was raised at Benfica, knowing how to honour Benfica.
"Respecting Enzo, he is free to choose and the choice was not to stay at Benfica. At Benfica, there will only be players who are proud to be here."
Costa questioned Fernandez's unwillingness to remain in Portugal until the end of the season, saying any suitors would have waited for the 22-year-old.
"Was Enzo going to lose value until the end of the season at Benfica? No," he continued.
"We tried to show him that if he stayed at Benfica until the end of the season, Chelsea and others would appear."
While the last-minute nature of Fernandez's exit left Benfica unable to sign a replacement, Costa was ultimately pleased with the structure of the deal.
Asked about Fernandez's record-breaking fee, Costa said: "It's in instalments. The value of the clause doesn't have to be paid upfront.
"We reached what we wanted and came out five million above the clause. It was not by chance that this deal ran out of time, we did everything to keep Enzo."
Tags