Bellingham wonders what might have been after England's World Cup exit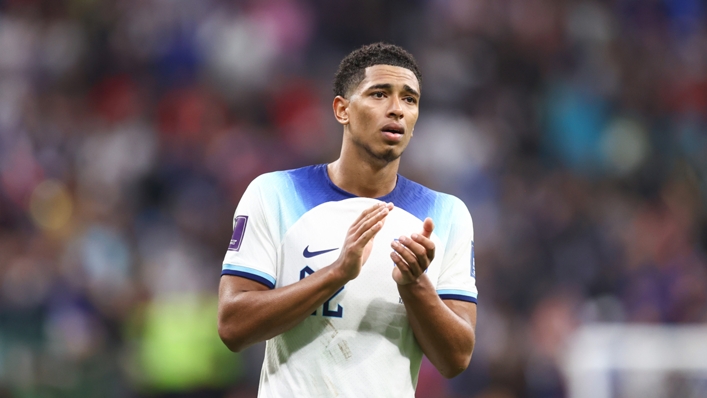 Jude Bellingham has got over the disappointment of England's World Cup quarter-final defeat to France but still wonders what might have been.
The 19-year-old midfielder had an impressive tournament in Qatar before England's 2-1 defeat at the hands of the eventual runners-up, with Three Lions captain Harry Kane both scoring and missing a penalty.
Ahead of his return to domestic action with Borussia Dortmund, Bellingham spoke to the Bundesliga club's media and opened up on his feelings following the World Cup.
"You come to terms with it pretty quickly, to be honest, but I still think about the game at times," he said. "There was an instance in training where I had a shot and I thought: 'That was just like the one that I had in the France game', and if I put it more to the left, would we have gone through?
"I was involved in the first penalty where I flicked it to Bukayo [Saka], and the second one, when I put the pass behind to Mason [Mount] and I always think: 'What if I'd just put it on Mason's toe and he went and scored?' And then there would have been no second penalty.
"You overthink things, but I think you come to terms with it quickly because you can't change it, whether you like it or not. Then you're on the plane home and think: 'We gave everything.'
"We had a tournament that the country can be proud of. We put up a really strong fight against one of the best teams in the world. We went out narrowly and you learn to kind of use it as ammunition for the next ones, and I think that's how I've taken it."
Despite ultimate disappointment at the last-eight stage, Bellingham was pleased with his first World Cup experience, which helped secure his inclusion in the 14-man shortlist for 2022's The Best FIFA Men's Player award.
"I think it was really good. I was really proud of it," he added.
"But you can't be satisfied because you go with the intention of winning it, and I really did feel like we had the chance to, especially after we got through against Senegal [in the last 16] and you realise there's only three more games. Had we beaten France and gone through, who knows what can happen?
"I personally enjoyed the kind of pressure of the games and the responsibility that the manager [Gareth Southgate] gave me... I think you create the pressure yourself through lack of preparation and confidence.
"Luckily, I don't lack confidence and I always try and stay prepared. I'm always quite confident that I can achieve the things I want to achieve."
Dortmund's season does not resume until January 22, over a month after the World Cup ended and Bellingham is grateful for the rest.
"After the World Cup I was just drained physically, and I said to myself: 'I want to have a nice long rest'," he said. "But then about two weeks into it, I thought: 'Nah, nah, I need to go back in and get to work and finally be back,' and I can't wait to get going again."
Tags