Belichick vindicated once more as Jackson builds DPOY case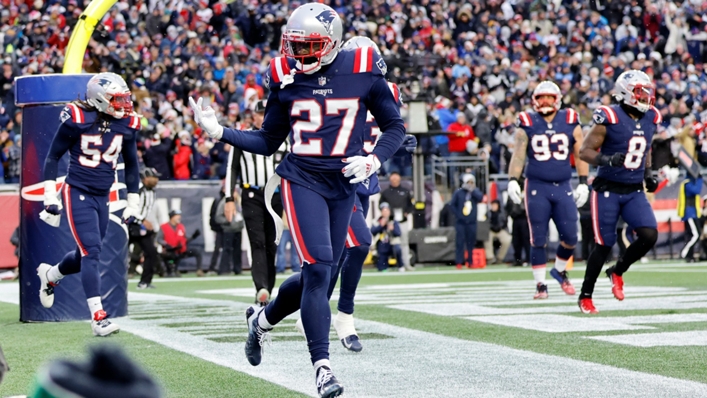 Bill Belichick has never been afraid to bid farewell to star players viewed as pillars of his consistently successful rosters. From Lawyer Milloy to Richard Seymour to the biggest breakup of all, with Tom Brady, before last season, the New England Patriots head coach has never wavered in his faith in his ability to replace an apparent cornerstone of the team.
Former Defensive Player of the Year Stephon Gilmore became the latest big name to test Bill Belichick's resolve in that regard this offseason, as the cornerback sought a new contract from New England. Last month, Gilmore was traded to the Carolina Panthers without taking a snap for the Patriots in 2021.
And, once again, Belichick's judgement in refusing to budge looks immaculate. Without Gilmore, who was placed on the Physically Unable to Perform list to start the season after suffering a quadriceps injury last December, the Patriots' defense has thrived, a unit bolstered by players returning after opting out of the 2020 campaign, astute free-agent additions and the impressive development of draft picks establishing itself as one of the most efficient and most opportunistic in the NFL.
Through 12 weeks of the season, the Patriots rank third in the NFL in opponent yards per play, giving up an average of just 5.12, and are tied second in takeaways, racking up 25.
Over a quarter of those have come from cornerback J.C. Jackson, who, even without the security of playing on the same defense as Gilmore, is producing another stellar year that is worthy of one of the NFL's most prestigious individual honours.
Jackson's fourth-quarter interception of Ryan Tannehill, which saw him haul in a tipped pass in the endzone and prevent the Tennessee Titans from trimming New England's lead to three points, proved a pivotal moment in a 36-13 win for the Patriots as they moved to the top of the AFC East with an 8-4 record that puts them in the second seed in the conference.
It also marked his seventh of the season, with Jackson proving himself not only as a lockdown corner, but one of the premier ballhawks in the NFL.
Having tallied nine interceptions last year, Jackson's 16 picks since the start of the 2020 season are the most in the NFL. His 30 pass breakups across the same span are second only to Miami Dolphins star Xavien Howard.
Jackson's career total of 24 interceptions is tied for the third-most in a player's first four seasons in the league. Only Lester Hayes and Everson Walls (both 25) have more. Additionally, he is the first player since Richard Sherman (2012 & 2013) to have successive seasons with seven interceptions.
Turnovers are volatile and can often be attributed to luck but, when a player is as consistently productive as Jackson, it is more than just good fortune, with his outstanding numbers a product of his ability to frequently stay in tight coverage.
According to Stats Perform data, Jackson went into Week 12 allowing a burn, which is when a receiver wins his matchup with a defender on a play where he is targeted, on 38.8 per cent of targets, the seventh-best ratio among cornerbacks with at least 25 targets.
Prior to this weekend, Jackson also ranked seventh in big-play percentage allowed (15.2). To put it simply, he is both taking the ball away from opposing offenses and preventing them from producing explosive plays when quarterbacks look his way.
The Patriots' defense is stacked with key contributors, edge rusher Matthew Judon chief among them as he continues to justify his lucrative free-agent contract, taking his sack tally to 11.5 against the Titans.
Yet for a team whose success in creating turnovers and keeping opposing passing games in check has made life a lot easier on an offense led by rookie quarterback Mac Jones – the Patriots have the best average starting field position in the NFL – no player has been as valuable as Jackson.
Shutdown corners who can also take the ball away at will are extremely difficult to find. Yet Belichick clearly has another on his hands in Jackson and, if New England's surge continues and the Patriots take top spot in the AFC, he should be in contention to replicate Gilmore's achievement and take home the Defensive Player of the Year award.
That he is worthy of such consideration is in no doubt. Yet, with Jackson set to hit free agency next offseason, the question is whether Belichick will deem his critical contributions worthy of a contract.