The stakes could not be higher for Anthony Joshua at the Tottenham Hotspur Stadium on Saturday night.
If he defeats mandatory challenger Oleksandr Usyk, the WBA Super, WBO and IBF world heavyweight champ will remain firmly on course for a long-awaited showdown with Tyson Fury.
WBC title-holder Fury must then beat Deontay Wilder in their trilogy fight on October 9 to keep hope alive of the undisputed battle boxing fans crave so desperately finally coming to fruition.
When Joshua, 31, steps out in front of more than 60,000 supporters in North London, his sights will be firmly set on taking care of Usyk.
But just how big a threat does the unbeaten Ukrainian, who unified the cruiserweight division before moving up to heavyweight, pose to the Brit?
Winning is all that matters
Joshua claims he has no specific game plan to dispatch Usyk.
The 34-year-old southpaw is widely expected to cause him problems, despite the difference in size between the two.
But in an interview with Sky Sports, AJ said: "I'm in there with the ultimate aim of winning. My goal is to either hurt you or beat you until I get the win.
"Whether it's the right hand, the uppercut or the jab… as long as it leads to a win.
"I could box on the front foot or the back foot. There is no real strategy except for winning."
The perfect showman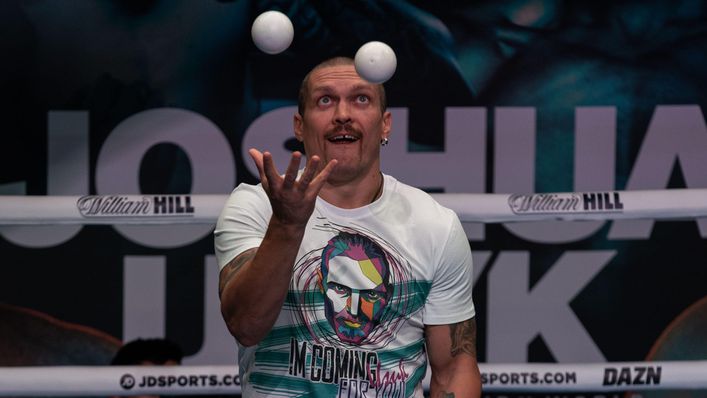 Whether he is dancing, juggling or boxing, Usyk is a colourful character you cannot help but warm to.
He stopped Tony Bellew inside eight rounds in his final bout as a cruiserweight in November 2018 at the Manchester Arena.
And having beaten Derek Chisora via unanimous decision last October in just his second heavyweight contest, Usyk is now looking to claim a third British scalp.
Speaking to the Guardian, he said: "I am not going to be nervous. Why would I be?
"It will be more difficult for him because he is defending three titles and fighting at home.
"A bald guy will come to his home country and look for a big fight. It will be a great pleasure for me to box here again.
"I love London and the UK — it is my lucky place. But I am not showing my emotions much and I don't think I should."
Confidence is key
Eddie Hearn clearly has full confidence in Joshua after handing him a career-long promotional contract earlier this week.
But the Matchroom Boxing supremo admits he has his usual pre-fight nerves.
Hearn told Sky Sports News: "He has to beat Usyk to keep the undisputed dream alive and he wasn't prepared to swerve the challenge, he's not that kind of guy.
"One thing that's so scary about Usyk is his mind and his ability to work out an opponent.
"AJ wants to show his skill in this fight, as well as his brutality. I just hope we see a little bit more of the brutality.
"I'm very nervous myself, which is a great sign for viewers and fans, because this is going to be incredible.
"Can AJ establish his jab and his size? Can he put dents in him early? Can Usyk get into a rhythm in this fight and use the ring, use the movement?
"You could debate the fight all day and that's when you know you've got a cracker."
What the experts think
Trainer Dave Coldwell, who was in Bellew's corner when he faced Usyk, insists Joshua must box clever and not risk throwing caution to the wind.
He said: "AJ has got to use his size but he's got to use it in an intelligent way. A good snappy, sharp jab to keep him off balance, along with body shots.
"He can't just go in there like a caveman, like Marco Huck did, because you're playing into Usyk's hands by being predictable.
"AJ has got to be clever, set traps himself, because Usyk will have to come into range."
Dillian Whyte believes his old rival will stop Usyk midway through the bout.
He told the 5 Live Boxing podcast: "I think it's a great fight and Joshua will stop him in the first six or seven rounds.
"Usyk will start fast and Joshua should be cagey as he is a bit lighter. Joshua can sometimes lack confidence but hopefully he goes back to the old him, starts pressing, being the bigger, stronger guy and gets the job done early.
"If Joshua sets the pace, he can get an early knockout and if he is strong, confident and walks him down, I don't see Usyk's punches troubling Joshua."
What's next?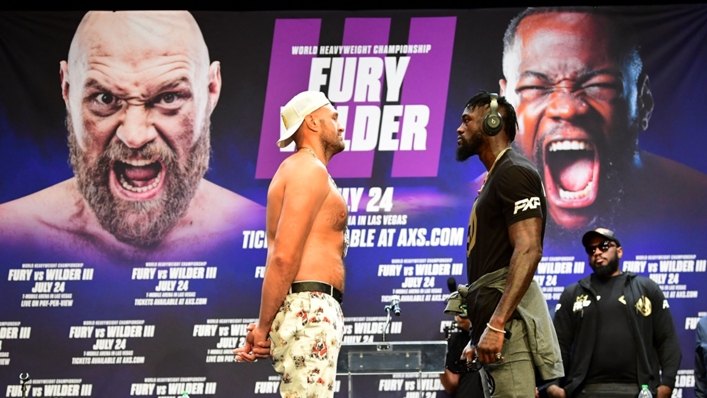 Assuming Joshua wins and Fury takes care of Wilder next month, talks over a battle of Britain with all four world heavyweight titles on the line can resume.
Top Rank's Bob Arum, who promotes the Gypsy King in America, wants his man to collide with AJ but is not worried regardless of who wins on Saturday night.
He said: "I can't speak for Tyson but I will certainly be watching Joshua vs Usyk.
"I've gotten to know Usyk very well because he's best friends with Vasiliy Lomachenko — he's a wonderful young man and a great fighter.
"But I've said it before and I'll reiterate this point, Fury beats any heavyweight in the world."
Hearn is desperate to see Joshua share a ring with Fury — but there is an element of doubt after negotiations were derailed earlier this year by Wilder forcing a third fight with the Mancunian.
He said: "The dream has always been to be undisputed.
"I had zero support from Fury's team to get that fight made. I don't want to speak badly about Fury's team but I don't trust them.
"Really, we've got to look after ourselves and our own business, which is Usyk. The only thing that matters right now is that fight.
"I believe Fury would fight Joshua. We know it's the biggest financial fight in boxing.
"I know for a fact AJ would fight Fury. I would be shocked if both won their upcoming fights and we didn't see that fight."