LiveScore's Gavin Glicksman pulls together some of the biggest stories from the world of boxing.
Linares ready for Devin
Jorge Linares firmly believes he will inflict the first defeat of Devin Haney's pro career when they trade leather in Las Vegas on Saturday night.
The former three-weight world champ has his hands full against WBC lightweight title-holder Haney, who is unbeaten in 25 fights.
But Linares, 35, has vowed to reclaim the belt he first won back in December 2014. He said: "It's a big fight and a new challenge for me.
"I have a lot of respect for Devin. He's a young guy, a world champion, but on Saturday the respect goes and I am ready for an amazing fight,
"I have a lot of experience and that's the most important thing in this fight. He doesn't have that. He has talent, he has youth and hunger — and the belt.
"But a fight with me is a different level. I can show so many styles, I'm naturally fast and strong, I don't have a lot of KOs but he knows I can punch.
"I think he will run all night but I will be waiting for him, I will follow him. He's going to have big problems on Saturday night, he knows I can do everything and he knows I have the timing to put him down.
"I know his style, I trained with him a long time ago in Vegas and we did some sparring. He was a baby then! But he's a champion now and I hope he's ready for a tough fight."
Chan vows to turn savage in Sin City
Before Haney defends his gold against Linares, Chantelle Cameron will put her WBC world super-lightweight title on the line against Melissa Hernandez on the undercard at the Michelob Ultra Arena at Mandalay Bay.
And Cameron, who claimed the strap last October, is ready to make Hernandez pay for doubting the legitmacy of a whiplash injury that caused their bout to be pushed back from March.
The Brit, 30, said: "She's just a hype job, she chats s**t saying I pulled out because I wasn't ready and the injury was a lie.
"Listen, if I wasn't ready and was making excuses, I could have just said I had coronavirus instead of a car crash. Who lies about having a car crash? That's just stupid.
"That has put a bit of fire in me and I'm glad because it's given me extra hunger. I will make her eat her words because she's nothing to be scared of.
"As soon as that bell goes, I'll turn savage. It'd be lovely to stop her. If I do that, I want it to be a proper stoppage, not the referee stepping in. I want to stop her on her feet."
You ain't seen nothing yet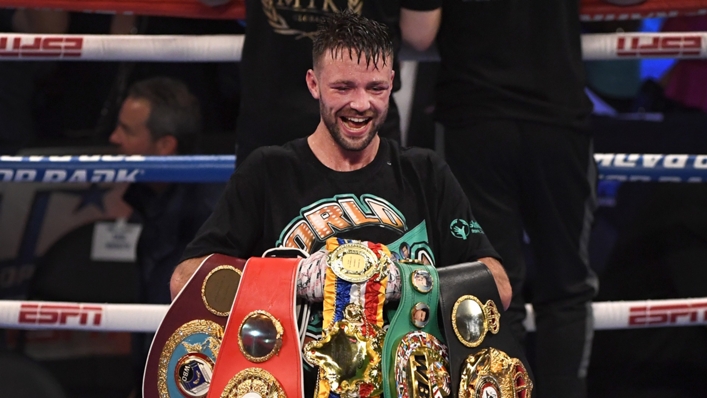 Josh Taylor insists there is more to come after being crowned Britain's first undisputed world champion in the four-belt era.
Taylor, 30, defeated Jose Ramirez via unanimous decision last Saturday to add the WBC and WBO super-lightweight titles to the WBA Super and IBF belts he already held.
And the Scotsman, who dropped Ramirez twice on the way to extending his undefeated record to 18 bouts, has big plans for the future.
Speaking to Sky Sports News, he said: "Myself and Jose had the belts — we put our unbeaten records on the line, we risked everything. That's what boxing should be about.
"We never ducked away from the challenge. We embraced it. It keeps the authenticity of the sport alive.
"I am the man at 140lbs. I am the champion, the No1, I've got all the belts. There should only be one champion and I can say that it's me.
"I've cemented my legacy. I could retire now, be totally content and live the rest of my life happily but in six months I'd want to get back in the ring.
"I haven't hit my ceiling yet, I haven't reached my full potential. I can make improvements, there are better performances to come. I can do better.
"The target is on my back now. Everybody will want to fight me. What I've worked so hard for, people will want to take from me."
By defeating Ramirez in Las Vegas, Taylor joined Oleksandr Usyk, Terence Crawford, Jermain Taylor and Bernard Hopkins as the only boxers to have held all four major belts in a division.
Shock on the cards?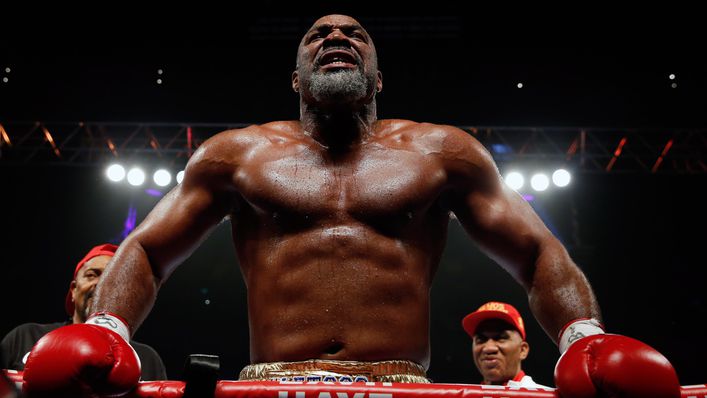 Shannon Briggs believes Deontay Wilder and Usyk may end up going toe-to-toe to be crowned undisputed world heavyweight champion.
WBC kingpin Tyson Fury and unified champ Anthony Joshua, who holds the IBF, WBO and WBA Super titles, were expected to collide on August 14 in a money-spinning bout in Saudi Arabai.
But Wilder, who dropped the famous green and gold belt to Fury in February 2020, successfully won his legal battle to force a third fight with the Gypsy King.
The big-hitting American will get his wish in Las Vegas on July 24, while Joshua is now expected to face WBO mandatory challenger Usyk next.
And former world heavyweight champ Briggs, 49, believes the British duo could be left empty-handed when the dust settles. He told Sky Sports: "Don't sleep on Wilder.
"Throughout the history of the boxing world, he is a freak of nature. He could crack anybody and knock them out with his power.
"We don't know what he will come with in this fight. He might shock the world!
"Fury might have got the wrong idea. If this guy knocks out Fury, then what? It is possible. Will there be a fourth fight?
"The fight to get ready for is Usyk vs Wilder! We might have to get ready for that."