Legendary promoter Bob Arum is determined to ensure Anthony Joshua and Tyson Fury lock horns on British soil next year.
A summer mega-fight to crown the undisputed world heavyweight champion bit the dust when Deontay Wilder forced a third bout with the undefeated Gypsy King.
With Joshua now defending his WBO, WBA Super and IBF titles against Oleksandr Usyk on September 25 and WBC kingpin Fury facing Wilder on October 9, the showdown fans desperately crave will not take place before 2021 draws to a close.
Speaking to talkSPORT earlier this week, AJ's promoter Eddie Hearn revealed February is in play for the Brits to finally collide.
And Arum, who represents Fury in the US, backed Hearn's suggestion — while taking a cheeky dig at his rival.
Speaking to Sky Sports, the 89-year-old Brooklyn native said: "The problem with Eddie? He cannot stop talking.
"He is saying the fight will happen next year, which is clearly correct.
"Joshua is fighting in September, we are fighting in October. Obviously [Joshua vs Fury] will take place next year.
"My hope is the fight goes to the UK. I don't care what the money is.
"Both fighters owe the UK fans this tremendous event at Wembley or Cardiff, rather than taking it to a foreign country.
"Fury vs Joshua is the fight people want to see. Period. End of story.
"That is an easy fight to make and we had it rolling. The central elements had been taken care of.
"There were no problems, really, on the deal."
Fury and Co are my enemies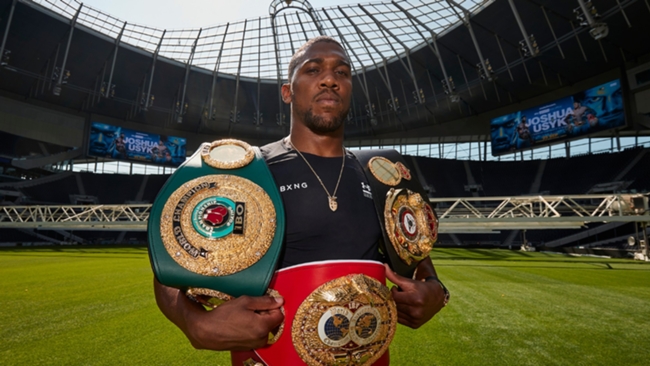 Joshua's sights may be set firmly on mandatory challenger Usyk but Fury is clearly still very much on his mind.
During an interview with former Manchester United and England right-back Gary Neville, 31-year-old AJ revealed he would be willing to fight his rival even without titles on the line.
He told The Overlap: "Without the belts? I rate that. That's what I'm talking about. We'll fight, 100 per cent, let's do it.
"I'll smoke that guy. I will. It's annoying.
"For me, I don't really get into the Twitter back and forth. Anyone can sit behind a computer and talk.
"Let's be real, let's be honest. Let's let the people know."
Asked by Neville whether he respected Fury as both a boxer and a man, the unified champ replied: "I don't know.
"I don't look at anyone in my industry like that. They are just people I want to fight.
"I haven't got time for none of them. I'm not friends with no one. They are all enemies at the end of the day."
The Golden Boy is back
Oscar De La Hoya cannot wait to show he still has what it takes against former UFC world light-heavyweight champ Vitor Belfort on September 11.
The 48-year-old claimed Olympic gold in 1992 before embarking on a pro career that saw him pick up world titles in six weight classes.
He has not fought since losing to Manny Pacquiao in December 2008 but is itching to let his hands go in competitive action once again.
The Golden Boy, who retired with a record of 39 wins and six defeats, said: "There's nothing that can phase me. There is nothing that can break me down.
"I'm strong as a rock [mentally]. I'm just going to apply it.
"I'm at peace. I finally got here. People can talk all the s**t they want to but I will never give up. Age is just a number."