Beach praised as a man who 'will change hockey culture forever'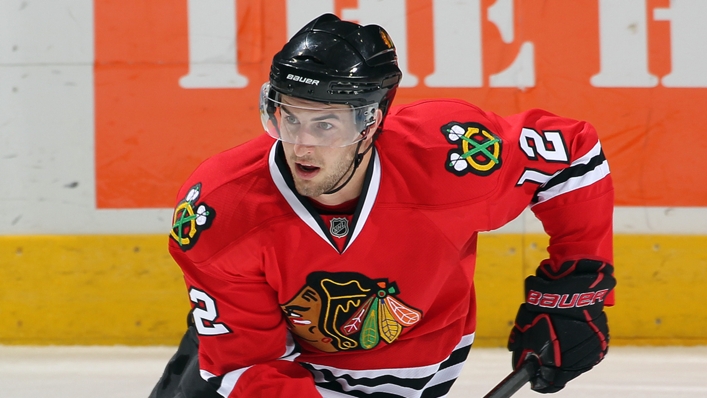 Kyle Beach was praised as a man who "will change hockey culture forever" after revealing he was the player who made sexual abuse allegations against the Chicago Blackhawks in 2010.
Blackhawks president of hockey operations Stan Bowman resigned this week after a report into the team's response to the allegations was released.
The 107-page report, conducted by law firm Jenner & Block, investigated the Blackhawks' handling of an allegation from a former player that he was sexually assaulted by then video coach Brad Aldrich during the team's Stanley Cup playoff run.
Jenner & Block was hired by the Blackhawks after the player filed a lawsuit against the team in May of this year.
Canadian Beach, now 31, was taken by the Blackhawks as the 11th overall pick in the 2008 NHL draft. He revealed on TSN's SportsCentre that he was the player – previously anonymised as John Doe– at the centre of the investigation.
He described revealing his identity as "a big step for me, my process of recovery, as I process the events that happened and as I truly deal with the underlying issues that I have from them".
He called himself "a survivor", adding: "I know I'm not the only one, male or female."
Beach said: "It's destroyed me from the inside out. And I want everybody to know in the sports world and in the world that you're not alone, that if these things happen to you, you need to speak up."
Aldrich told the investigators he denied assaulting his accuser.
Four-time Olympic ice hockey gold medallist Hayley Wickenheiser, the Canada women's team's greatest player, wrote on Twitter: "Kyle Beach you are a brave man. You have and will change hockey culture forever. Much respect."
Mike Commodore, a Stanley Cup winner with the Carolina Hurricanes in 2006, described the situation as "a total catastrophe on every level".
Folks…I see you tweeting me about the Kyle Beach debacle…I hear ya…I don't even know where to start so I will leave it at this…It's a total catastrophe on every level. I totally realize hindsight is 20/20…but this is inexcusable.
Beach has received an apology from the NHL Players' Association (NHLPA), whose executive director Don Fehr said the organisation's response to the accusations fell short of the required standard, describing that as "a serious failure".
Fehr said: "Kyle Beach has been through a horrific experience and has shown true courage in telling his story. There is no doubt that the system failed to support him in his time of need, and we are part of that system.
"In his media interview, Mr. Beach stated that several months after the incident he told someone at the NHLPA the details of what happened to him. He is referring to one of the programme doctors with the NHL/NHLPA player assistance programme.
"While this programme is confidential between players and the doctors, the grave nature of this incident should have resulted in further action on our part. The fact that it did not was a serious failure. I am truly sorry, and I am committed to making changes to ensure it does not happen again."
The report into the Blackhawks' response to the initial allegations contained the detail that multiple parties said there had been a desire to focus on the Stanley Cup Finals in order "to protect team chemistry and avoid bad publicity", while Aldrich remained involved with the team, receiving a championship ring.
No action was taken for three weeks, violating the team's own sexual harassment policy, the report said. It said Aldrich "engaged in an unwanted sexual advance on a Blackhawks intern" during this time.
Aldrich was then allowed to resign, avoiding an investigation. In 2013, he was arrested and pled guilty to fourth degree criminal sexual conduct involving a minor.
Blackhawks CEO Danny Wirtz, who took over his role in 2020, addressed the media on Tuesday as the report was released, describing it as "both disturbing and difficult to read".
While the NHL fined the team $2million for their "inadequate internal procedures and insufficient and untimely response", Wirtz revealed Bowman, who was general manager at the time, had "stepped aside".
Bowman also informed USA Hockey he would be stepping down as GM of the 2022 United States Olympic men's team.