Barcelona say goodbye to the Champions League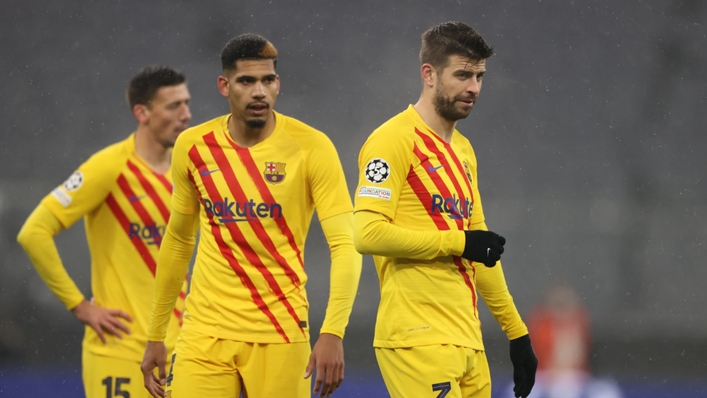 Xavi put on a brave face as he addressed the media on Tuesday – Barcelona's new coach stressed it would not take a "miracle" for his team to beat Bayern Munich and secure passage to the knockout phase of the Champions League.
Of course, it would have been pretty alarming if he had written Barca off given they went into the game second in the group, but their task required them to match Benfica's result against Dynamo Kiev, who had a single point to their name.
Xavi was relying on the fact that every now and then you do see a freak result. After all, Bayern lost 5-0 to Borussia Monchengladbach only recently.
But from early on in an empty Allianz Arena, Barca looked utterly without hope as Bayern took charge and Benfica quickly established a lead in Lisbon.
In the end, Bayern's 3-0 victory was about as comfortable as they come, with Barca's expected goals (xG) figure reaching just 0.38.
Bayern were ruthless, Barca were clueless.
According to a pre-match report by Spanish publication Mundo Deportivo, Xavi had outlined a 10-point plan to beat – well, stifle at the very least – Bayern.
These points ranged from pressing high in an attempt to stop Bayern's rhythm, to instructions like utilising Ousmane Dembele's pace and keeping close to Robert Lewandowski and Thomas Muller.
To their credit, there were a few glimpses of encouragement during the early exchanges, with Dembele finding space out on the left for one shot into the side-netting and a couple of low crosses.
But a Bayern side that looked very laid back weren't having great difficulty carving through and it was only a matter of time until the hosts opened the scoring.
That apparent order to keep close to Lewandowski and Muller didn't live long in the memory, as Gerard Pique was not tight enough to the Pole as he raced forward and twisted the centre-back in and out.
His chip then picked out Muller at the back post, the German heading in his 50th Champions League goal.
It was 2-0 just before the break as Leroy Sane lashed in from long range – Frenkie de Jong was spreadeagle on the turf, the Dutchman's reaction summing up Barca's situation.
The Blaugrana were doomed by half-time, their job in the second period simply a case of damage limitation.
Their two previous clashes with Bayern were humiliating, with Die Roten comprehensive 8-2 and 3-0 winners – Xavi just needed to avoid another embarrassment.
Sane mystifyingly failed to make things worse for Barca as he was unable to convert from close range just after the break, but Jamal Musiala soon converted to increase the deficit.
But Bayern were in forgiving mood, failing to pile the misery on in the latter stages.
Nevertheless, defeat means Barca finish with seven points, their second-worst performance in a single group stage of the Champions League, having only ever registered fewer (five) in 1997-98.
Similarly, it is the first time since 2003-04 that Barca haven't reached the knockout stage of the competition, with the Blaugrana competing in the UEFA Cup that season.
The chasm between Barca and Europe's best was once again laid bare and makes you wonder how long it'll be before they can challenge for European football's biggest prize.
For a club of Barca's stature, dropping into the Europa League is a form of humiliation in itself – though, to further accentuate their plight, it might actually be their best route back into the Champions League.
The Catalans are six points adrift of the top four in LaLiga, and judging by their form so far this season, they'll need to improve considerably in the second half of the season if they're to climb into contention.
But honestly, it's difficult to imagine this team even getting the Europa League success that would see them return to Europe's top table next season.
Xavi was adamant before this game that a miracle wasn't necessary – as it turned out, Barca never had a prayer.
Tags