Mayfield says he and Cleveland Browns have mutually moved on
Peter Thompson
Stats Perform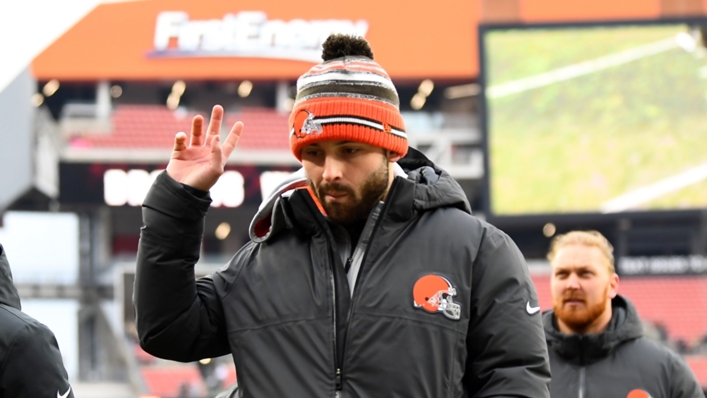 It is uncertain who will line up at quarterback when the Cleveland Browns open their 2022 season, but Baker Mayfield is pretty sure it will not be him.
Appearing at his youth football camp in Norman, Oklahoma on Tuesday, Mayfield was asked if there was any chance of a reconciliation with the Browns.
"I think it's been pretty obvious, the mutual decision on both sides is to move on," he said.
Mayfield's comments came the same day Deshaun Watson's hearing began to determine whether he violated the NFL's personal conduct policy.
The Browns appeared content to move on from Mayfield when they traded for Watson and gave him a massive five-year, $230million guaranteed contract in March despite the fact he was being sued by two dozen women for sexual misconduct.
Watson has long maintained he is innocent of any wrongdoing, but he is likely facing a lengthy suspension from the NFL.
Mayfield is still under contract with the Browns – due to make $18.8million this season – but said for him to suit up again for the franchise, the team has a relationship to mend.
"I think for that to happen, there would have to be some reaching out,'' he said. ''But we're ready to move on, I think, on both sides.''
Part of Mayfield's frustration with the Browns is after they acquired Watson they were unable to trade him prior to the NFL draft like he expected. Training camps begin in less than a month, and teams are set with their quarterback situations so a trade at this point is unlikely.
''I think I got frustrated with it not happening before minicamp and all those things, but it's just the stuff that's out of my control,'' he said. ''And so, you know, let those things happen and fall in place.''
Mayfield helped lead Cleveland to the franchise's first playoff berth since 2002 two seasons ago, but struggled last year while dealing with a shoulder injury and the Browns finished at 8-9.
Other than Mayfield and Watson, the only other quarterbacks on Cleveland's roster are Jacoby Brissett and Josh Dobbs, so one of those two are the leading candidates to start the opener against the Carolina Panthers on September 11, if Mayfield is done with the team and Watson is banned.
And Mayfield certainly sounds like his days with the Browns are over.
''I'm thankful for my four years in Cleveland, and had a lot of ups and downs and a ton of learning experiences that I will forever keep with me,'' he said.