Australian Open: Murray calls for player protection after late-night Melbourne epic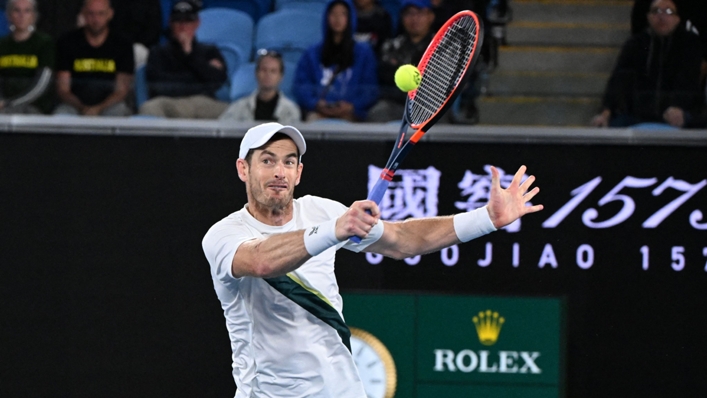 Andy Murray does not believe night matches dragging on into the early hours is beneficial to anybody.
Murray came back in stunning fashion at the Australian Open in a second-round match that started late on Thursday but dragged well into Friday in Melbourne.
The former world number one reached the third round with a marathon 4-6 6-7 (4-7) 7-6 (7-5) 6-3 7-5 victory over Thanasi Kokkinakis.
At five hours and 45 minutes, the five-set thriller was the longest match of Murray's career and the second-longest in Australian Open history, as the Briton claimed victory shortly after 04:00 local time.
Murray, though, sees no benefit of playing so deep into the night.
"I don't know who it is beneficial for," he said in a press conference. "We come here after the match, and that's what discussion is [about], rather than it being [on an] epic match.
"It ends in a bit of a farce. Amazingly, people stayed until the end. I really appreciate people doing that, creating an atmosphere for us.
"Some people need to work the following day. If my child was a ball kid for a tournament [and] they are coming home at five in the morning, I'm snapping at that.
"It's not beneficial for them, it's not beneficial for the umpires, the officials. It's not good for the players. We talk about it all the time. When you start the night matches, these things are going to happen."
Murray's career appeared to reach a potential end at this very tournament four years ago due to his longstanding hip issues, and it is a testament to his determination that he remains capable of going the distance in matches.
But he acknowledged there could be a health risk from long encounters such as this one, adding: "Potentially. It's strange because the courts are fast.
"When we started tonight, it felt like there was no pressure in the ball. It's just difficult to hit winners. There was a 70-shot rally yesterday, which is not normal. [We] probably need to look at that."
Kokkinakis was blunter in his assessment, posting on Twitter: "This f****** sport, man."
Murray, a five-time finalist in Melbourne, will face Roberto Bautista Agut in the third round, having progressed to that stage of the Australian Open for the first time since 2017.
Tags