Australian Open: Djokovic the 'greatest that ever held a tennis racquet'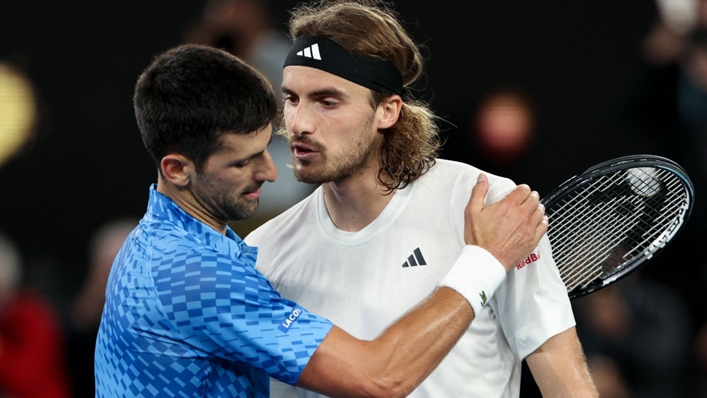 Stefanos Tsitsipas paid tribute to Novak Djokovic after losing to the Serbian in Sunday's Australian Open final, lauding him as the "greatest that ever held a tennis racquet".
Djokovic was at his dominant best as he drew level with Rafael Nadal on 22 men's grand slam singles titles thanks to a straight-sets win over Tsitsipas at Melbourne Park.
The 35-year-old won 6-3 7-6 (7-4) 7-6 (7-5) at Rod Laver Arena to make it 10 wins from as many Australian Open finals.
Djokovic was barred from defending his own crown last year when deported from Australia due to his COVID-19 vaccination status, but he returned with a vengeance in 2023, dropping just one set across seven matches as he also reclaimed the world number one spot.
But most importantly it put him level again with Nadal in terms of major titles after the Spaniard won in Melbourne and Roland Garros last year.
Despite this parity, Tsitsipas has no doubt who he believes is the best to ever play the sport.
"Novak, I don't know what to say. It speaks for itself what you have achieved so far," said the 24-year-old, whose wait for a maiden grand slam title continues. "It's all in the numbers.
"Congratulations, not only to yourself but having such a supportive family. I think it is very similar the way we grew up around tennis, so it's been an unbelievable journey for you.
"I admire what you've done for our sport, and I think you make me a better player when are on court.
"I have had the privilege to play a lot of difficult and high intensity matches, but I would like to say one more time Novak brings out the best in me.
"He's one of the greatest in our sport, and he's the greatest that has ever held a tennis racquet, for sure.
"I'd like to thank you for pushing our sport so far. I think it deserves a player like you who pushes every single player that's involved in the sport to the max."
Tsitsipas, who was bidding to become the 27th male singles champion at the Australian Open, had his moments as he forced set point in the second and broke Djokovic at the start of the third.
But Djokovic's famed powers of recovery were as strong as ever, and Tsitsipas – beaten by the same opponent in the 2021 French Open final – quickly turned his attention back to the daily grind.
"It's not easy, another final at a grand slam, but I am always willing to go back on court and work harder," he continued. "I would like to thank my team for coming on this journey with me.
"I am happy I have group of supportive people around me, people who wake up every single day and have the same goals and ambitions as me. I'm extremely privileged that I get to do this for a living."
Tags