Australian Open: Djokovic ready to go from villain to victor
John Skilbeck
Stats Perform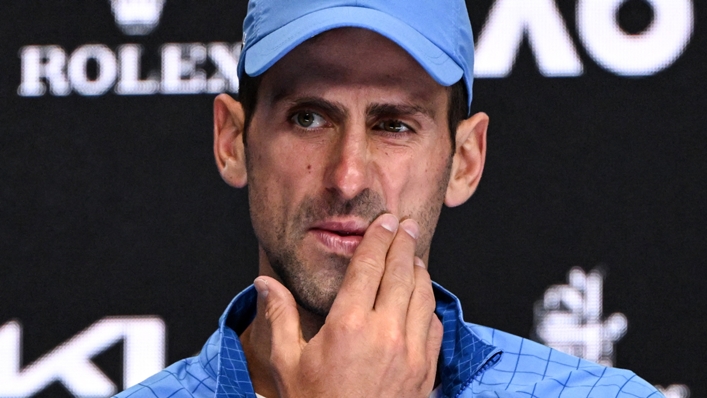 Novak Djokovic was sitting at home at this time last year, tapping out messages of congratulations to the Australian Open champions, no doubt sick to the stomach.
On Sunday in Melbourne, he can complete the journey from outcast to conquering hero, as he faces Stefanos Tsitsipas for the men's singles title at his favourite grand slam.
There are no bankers in tennis – aside from those in the posh seats – but Djokovic has won nine out of nine previous Australian Open finals, and his last nine matches against Tsitsipas.
He is in scintillating form and the hamstring pull that was seemingly troubling him earlier in the fortnight no longer seems a factor, so a Djokovic triumph seems at the very least a probable outcome.
On the line for the Serbian will be a 10th Australian Open title, a record-tying 22nd men's singles grand slam, and the not-so-small matter of the world number one ranking.
Across the net, Tsitsipas is seeking a first major, but he can also vault to number one should he lift the trophy. Tsitsipas and Djokovic have met in a slam final before, but both men have bizarrely claimed to have forgotten all about it.
Djokovic has played so many major finals that perhaps he might have briefly put the 2021 French Open title match out of his mind. For Tsitsipas, however, the message is hard to believe. He lost from two sets up that day, in what was his only final at any of the four majors up to now.
Of course Tsitsipas has no interest in talking about such a personally dark day, and instead his message is that he feels "very optimistic" about this latest opportunity.
Yet Djokovic has been steamrollering opponents, and his latest mission is almost complete. At the age of 35, this would go down as one of his finest grand slam triumphs.
But has this been a revenge mission? Does Djokovic still feel slighted for what happened last year, when the Australian government, led by then Prime Minister Scott Morrison, had him deported amid an almighty vaccination hullabaloo.
Morrison is no longer in that top office, and the Park Hotel immigration detention facility where Djokovic was kept 12 months ago released its last refugees in April.
Those visiting Australia do not have to provide proof of vaccination any more, or a medical exemption. This is a strikingly different Australia to last year, and Djokovic might cut loose with thoughts about his previous treatment after Sunday's final. He said earlier this month he felt he had been turned into a "villain of the world", but his message has been a calmer one in recent days.
For now, he is not getting into how being kicked around like a political football truly felt.
"Honestly, I'm over it," Djokovic said on Friday. "Once I came into Australia, my intentions were always very positive to come back. Of course, the feelings of coming back to Australia this year were different than any other year because of the events of last year.
"I said many times that I don't hold any grudges, that I just love playing in Australia, love being here. That kind of emotion helped me to feel comfortable and to play well. I won Adelaide, now I'm in the finals of the Australian Open. I haven't lost a match in last five weeks in Australia."
He also has bad news for those rivals hoping he joins Roger Federer in retirement soon.
Rafael Nadal, last year's Australian Open champion, is another who might be nearing the end, and it is his record of 22 slams that Djokovic is targeting on Sunday. But Djokovic is playing the tennis of a much younger man, and he is determined to not only break the men's slam record but obliterate it, while wrestling with the emotions that tennis brings out of him.
Djokovic said: "When we're on the tennis court in the midst of a battle, some of the things surface, and I have to deal with it. So it's a great school of life for me.
"Then at the same time I have professional goals and ambitions. Those are grand slams and being number one in the world. Those two probably pinnacles of the professional tennis world have always been there as goals for me. So I do want to make more history of this sport, no doubt.
"I feel game-wise physically I still can sustain and maintain the top level. So as long as that's the case, why not keep going?
"I don't know when the end is going to happen in terms of my professional career. Right now I have the motivation, I have the support of my close ones, which is also something that is probably underestimated and not maybe talked about a lot, but it's a key, especially as a father."
Overall, Djokovic holds a 10-2 record against Tsitsipas, having lost two of their first three meetings. The 10 defeats are the most Tsitsipas has suffered against any player, and this final will mark his 350th career match against a top-10 players.
That is a record in itself, and Djokovic holds a 69.3 per cent win rate in such matches, whereas Tsitsipas has only a 44.3 per cent winning record against players with a top-10 ranking.
Tsitsipas, at 24, is the youngest men's singles Australian Open finalist since Djokovic and Andy Murray, both 23 at the time, contested the 2011 final, and he could become the fifth to take the title before turning 25 in the 21st century, after Federer, Marat Safin, Djokovic and Nadal.
However, Tsitsipas has lost his last three ATP-level finals, and his last six on hard courts, so that does not bode well at all.
Not that the Greek will let such numbers worry him, and perhaps he has forgotten those defeats too.
"I'm playing great tennis. I'm enjoying myself," said Tsitsipas. "I just see no downside or negativity in what I'm trying to do out there. Even if it doesn't work, I'm very optimistic and positive about any outcome, any opponent that I have to face.
"This is something that has been sort of lacking in my game. I genuinely believe in what I'm able to produce. That is more than enough. I go about this way. I strive for it every single day. It might not go the way I want it to, but I put 110 per cent out there."
Tags