Australian Open: Ivanisevic claims Djokovic is from 'other space'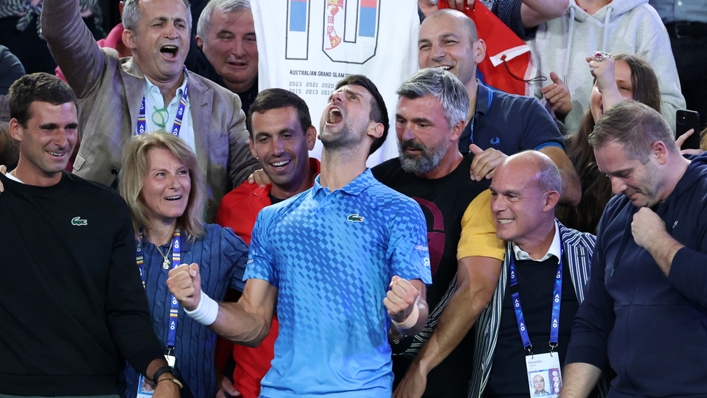 Goran Ivanisevic says Novak Djokovic is from "other space" and revealed he took "77 therapies a day" on a hamstring injury to ensure he could win a record-extending 10th Australian Open title.
Serbian great Djokovic moved level with Rafael Nadal on 22 grand slam titles, a record for male players, by defeating Stefanos Tsitsipas 6-3 7-6 7-6 on Rod Laver Arena in Sunday's final.
Djokovic was able to go all the way at Melbourne Park despite suffering from a hamstring problem that troubled him particularly during the first week.
The 35-year-old moved back to the top of the rankings with his latest major triumph and Ivanisevic, his coach, felt it was impressive that he was able to play, let alone win the title.
"Let me put it like this. I don't say 100 per cent, but 97 per cent of the players, on Saturday when you get results of the MRI, you go straight to the referee's office and pull out of the tournament," the Croatian said.
"But not him. He is from other space. His brain is working different. I [have been] with him [for] four years, but it still sometimes [amazes me] how his brain works.
"He gave everything, 77 therapies a day. Every day was kind of better and better. I didn't expect this. Honestly, I was shocked. First two rounds [were] okay, but then against [Grigor] Dimitrov [I] was very scared.
"But he got through and in the end he won the tournament."
Djokovic also became the third-oldest player in the Open Era to win the Australian Open, younger only than Ken Rosewall (in 1972 and 1971) and Roger Federer (2018).
Ivanisevic was also asked by reporters how much longer he believes Djokovic can continue to take on all comers at the highest level.
"Definitely two, three more years. The way he's taking care of his body, the way he approaches everything, the food, it's amazing. It's unbelievable the level," he said.
"We are talking about young guys. They're here, it's great for tennis, great for the future of tennis.
"But you still have these two guys [Djokovic and Nadal] battling. This was Novak's home court, and now we are going to Rafa's home court [the French Open] in this handball match of 22-22.
"Yes, [young players] are coming, [Carlos] Alcaraz, unbelievable. Still, if Rafa steps on the court on the French Open, for me, he's always the favourite to win the tournament... [Djokovic and Nadal] really push each other.
"It's good that we have a lot of young guys. We have Stefanos who is going to win a grand slam definitely one day because he's just an amazing player."
Tags