Simeone: Atletico need signings for 'new energy'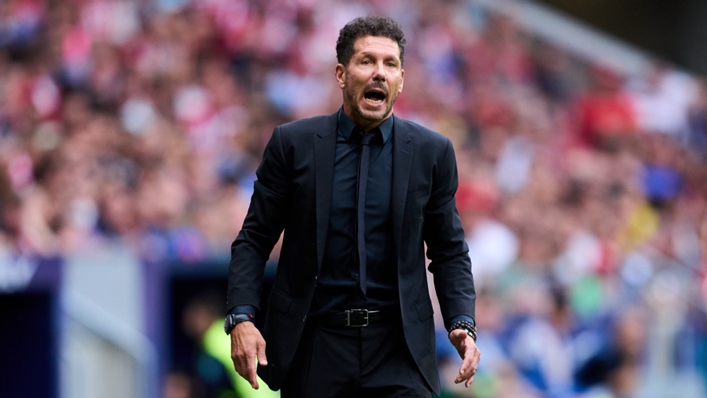 Diego Simeone is targeting some new signings to reinvigorate an Atletico Madrid squad that "needs new energy".
Atletico were disappointing in the defence of their LaLiga title and have lost nine games and conceded 42 goals – both their worst totals since the 2011-12 campaign, when they appointed Simeone midway through the season.
A strong finish to this term, in which they went on a run of nine wins in 12 outings, enabled them to secure a top-four finish and a place in next season's Champions League.
Simeone still has faith in the ability of his squad but feels it would be wise for Atleti to try to conduct some galvanising transfers.
"We have a strong squad. In almost all areas, we have players who can give us what we want. We don't need many players, but we do need some to reinforce a team that needs new energy," said Simeone.
The Atleti boss took responsibility for the team's shortcomings because he felt he did not do enough to solve the issues they faced.
"I'm not happy with this season at all. After winning LaLiga, I always had the hope of being closer to defending it. It's a good lesson in life to keep learning," said Simeone.
"The 4-4-2 and 5-3-2 that we were using – that also made me feel a bit dizzy. There is not much difference between the two but I could have done more than I did.
"We have to refine things. We suffered with the absence of [Kieran] Trippier and were not able to solve it as I would have liked. [Marcos] Llorente played a whole year in a position where he couldn't show what he showed last season.
"We suffered a lot with the central defenders – [Stefan] Savic and [Jose] Gimenez have had injuries and setbacks. They seem like excuses, but they are realities. I couldn't solve it in the best way.
"There's always a lot of self-criticism and it's harsher than what the media says. We want to win. The club's goal is to get in the Champions League, but ours is to win.
"It was an unusual season. We're not used to conceding so many goals and we lost many games. But with all the difficulties we qualified for the Champions League with two games to spare."
Atleti will hope to finish the season by defeating Real Sociedad on Sunday and claiming back-to-back away LaLiga wins for the first time since June 2022.
Los Colchoneros have won six of their 10 away games against Sociedad under Simeone, having won only six of the previous 28 such encounters.
Tags