Atletico hero Griezmann vows to 'give everything' despite supersub role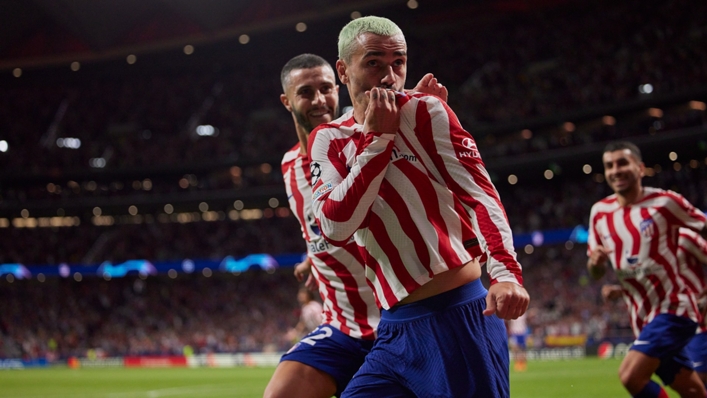 Antoine Griezmann declared he will "give everything" in his limited minutes after playing the role of supersub in Atletico Madrid's remarkable 2-1 Champions League win over Porto on Wednesday.
After 100 minutes and 21 seconds, Griezmann nodded home the latest Champions League goal on record (excluding extra-time) to guide Los Colchoneros to a dramatic victory.
Mario Hermoso had broken the deadlock in the 91st minute before conceding a penalty that was scored by Matheus Uribe, meaning Atleti's win over Porto is just the second Champions League match to ever feature three goals scored after the 90th minute (excluding extra-time).
In a remarkable turn of fate, the previous instance was when these two sides met last December, when Diego Simeone's men ran out 3-1 winners in Portugal.
Griezmann has had to settle for the role of impact substitute this term, with Simeone recently hinting the France forward's minutes were being managed to avoid activating a purchase clause in his loan deal.
But Griezmann insists he is content at Atleti, telling Movistar: "It is what it is, it is not in my hands. I just thank god I'm here.
"My family is happy, of course I want more, but I'm going to give everything in the minutes I have.
"I'm very happy here, the only thing I want is to play here and give everything for the club, for Cholo [Simeone] and the fans.
"As I said, on my return I was going to give everything. Scoring the winning goal is always very nice, but we keep the three points and can continue like this.
"We still have a hard time finding a performance, but there are only five games [gone]. We have to improve, we are working on it in training, it is missing in the games.
"Perhaps we lack confidence in ourselves, to pass forward, look for the strikers and it's only the fifth game, I'm sure we'll go further.
"With the red [for Porto attacker Mehdi Taremi] we got higher, we put more players up, finding passing lines, trying to get inside.
"The penalty, I don't know if it is, but it is what it is. The corner in that last play… here, until the last second anything can happen, and we repeated the Porto goal from last season."
Griezmann's winner ended a run of eight home Champions League games without a win for Atleti – the longest such sequence ever recorded by a Spanish club.
Tags