Arum: Fury's 'preference' is to fight Usyk and not Whyte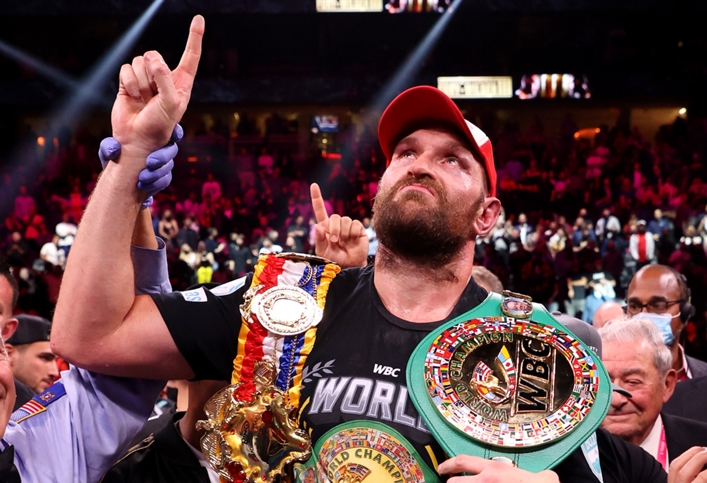 Promoter Bob Arum has revealed that Tyson Fury would 'prefer' to fight Oleksandr Usyk instead of Dillian Whyte if Anthony Joshua agrees to step aside.
Joshua activated his option for an immediate rematch after losing to Usyk, who is now the IBF, WBA and WBO champion, on September 25.
As a result, the 30-day period granted by the WBC for Fury and Usyk to arrange a fight passed without negotiations, with WBC interim champion Whyte in line to face Fury instead.
Fury is more interested in a clash with the Ukrainian, however, in an attempt to claim his belts and become the undisputed heavyweight champion of the world, according to Arum.
"If Joshua decides not to exercise his rematch against Usyk and decides to step aside, the fight we would like to make is between Usyk and Fury," Arum said to Sky Sports.
"That is a fight to unify the titles once and for all. Then Joshua can fight the winner of the undisputed fight. Whyte can stand in line and fight the winner ultimately.
"That's what Tyson would like. And I represent Tyson. That is his preference. If they want to fight each other, which I believe they do, I would facilitate it."
Arum also explained why the WBC did not name a mandatory challenger to Fury's title on Tuesday night, despite Whyte expecting to be given a first opportunity to fight for a world title.
"Whyte's people had brought an arbitration proceeding against the WBC," Arum continued. "The WBC said they would not grant Whyte a mandatory position while the arbitration is pending.
"That was appropriate. Fury may end up fighting Whyte, we'll see. But it won't be with the requirement of the WBC. Whyte is an excellent fighter."
Fury had been in discussions with Joshua last year over an undisputed title fight, but it never materialised and Arum believes Joshua's best chance of facing Fury is to walk away from his rematch with Usyk for now.
"If Joshua decides he wants the rematch [with Usyk] straight away, which I think would be a mistake because there is no way he will win unless he gets new trainers in and figures out how to fight a southpaw, then he has the absolute right to do it and nobody will interfere with that contract," Arum added.
"If he decides, which I think he should, to take another fight, Usyk can fight Fury for all the belts, Joshua can fight the winner. I think that's the way he should go. If he does that, everybody will accommodate him."