Arteta rues FA Cup exit as Guardiola gets the better of Arsenal yet again
John Skilbeck
Stats Perform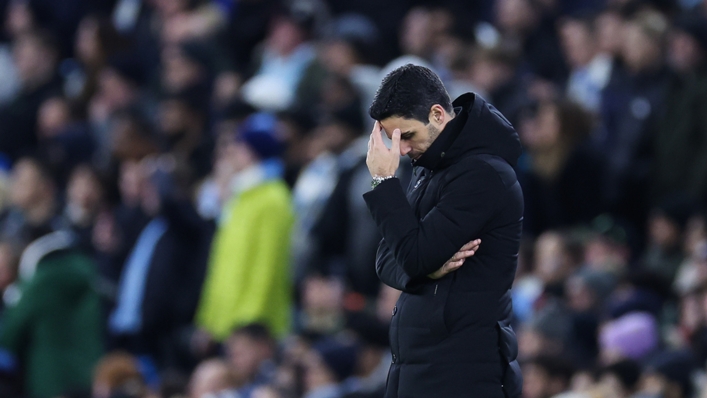 Mikel Arteta saw Arsenal's FA Cup hopes ended by Manchester City and took issue with the defending that allowed Nathan Ake to score the only goal at the Etihad Stadium.
The Spaniard has been a winner in the competition as a player and as a head coach with the Gunners, but this will not be the London club's year for Wembley glory.
Their chief focus is on the Premier League, which they lead by five points from City with a game in hand, but these teams must meet twice in that competition before the end of the season.
Arsenal have now lost 13 of their past 14 games against City in all competitions, including six in a row, and Arteta was left to rue one lapse in concentration in Friday's fourth-round tussle.
He told ITV: "We're disappointed. I think we could have got much more from the game.
"It was a really tight match, a really competitive game, and an action decided the game and unfortunately we are out."
Assessing Ake's 64th-minute winner, Arteta said: "I think we could have defended that much better, in the discipline that we need in the box to stay with their runners."
Arsenal only had five goal attempts, with just one in the second half as City dominated, but their boss felt they still had opportunities to get at the Premier League champions.
"We had big situations there, and we didn't put them away and in these games we need to do that," he said.
"We can take lots of positives. The way we approached the game and the way we competed in the game was really good, because it's very hard to do it against this incredible team.
"We played face to face against them. [We] know that in big moments, in big matches, you have to make a difference and that's how you win against these teams."
Reports have claimed Gabriel Martinelli, used as a substitute in this game, has agreed a new four-and-a-half-year contract with Arsenal, but Arteta refused to discuss the Brazil winger's future.
"I don't talk about anything about our players till it's done," he said.
Tags