Arteta hails debutants Saliba and Jesus as he targets further signings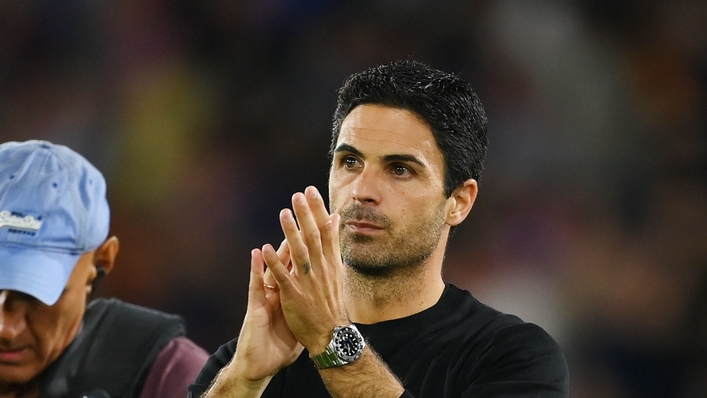 Arsenal manager Mikel Arteta hailed the performance of debutants William Saliba and Gabriel Jesus in the Gunners' 2-0 win over Crystal Palace.
While Jesus was a thorn in the side of the Eagles' defence with a threatening display, particularly in the first half, at the other end Saliba put in a commanding defensive display – having waited three years for his debut.
Saliba's dominant showing saw the 21-year-old register a team-high seven clearances and win possession seven times, behind only Thomas Partey (eight).
Speaking after the game, Arteta discussed the merits of a partnership with Gabriel Magalhaes.
"You need the right balance," the manager told Sky Sports.
"Physicality in this league is something that you cannot come short, because if you do, you're going to be exposed, and you're going to have to be able to deal with certain games and certain opponents, which demand so much in those aspects.
"The two, for their age, they're really well built, and they give us a different edge, the same with Ben [White].
"That's the resilience we need to win football matches and to see football matches through. We had some moments; you need your goalkeeper because, to be honest, they had the biggest chance in the game, the one against one, and Aaron [Ramsdale] did incredibly well."
Although Jesus was not on the scoresheet for Arsenal, his intent was evident from the start as he put the Palace defence under pressure and contested a team-high 21 duels.
"The fear factor," Arteta said, describing the forward's impact. "He's always on your shoulder, he's always had that ability, the intuition to get the ball off you, and he's never standing still.
"He's always on the move, he's always ready to act, and he's so sharp. For the defenders, it's difficult to play against him."
As well as Jesus, Arsenal have added Oleksandr Zinchenko, Fabio Vieira, Matt Turner and Marquinhos, but Arteta – who celebrated his 50th league win as Gunners boss – is still on the lookout for further additions before the transfer window shuts on September 1.
"We are going to try," he said. "There are a few things that we have planned, and if we can do them, it would be great.
"But now we'll work with the players we have. We're into the season already, and the focus should be on the players we have, to get the best out of them."
Tags