Arnold to coach Australia through to 2026 World Cup
Patric Ridge
Stats Perform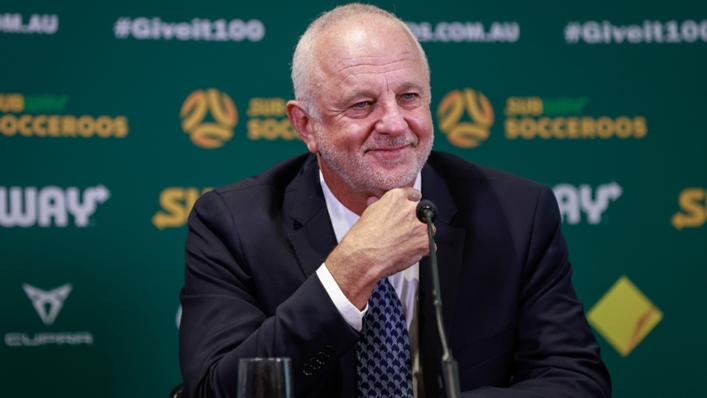 Graham Arnold will stay on as Australia head coach heading into the 2026 World Cup.
The Socceroos reached the round of 16 in Qatar last year, matching the achievement of 2006.
After losing to eventual finalists France in their opening group game, Australia beat Tunisia and Denmark to record their best performance at a World Cup finals. They lost 2-1 to a Lionel Messi-inspired Argentina in a tight last-16 tie.
Arnold, who was caretaker manager of the national team between 2006 and 2007 and also took charge of Australia's Olympic side at the delayed Tokyo 2020 tournament, has now signed a new contract to keep him in place through to the 2026 World Cup, which will be held in the United States, Mexico and Canada.
Football Australia chair Chris Nikou said: "What Graham and the entire squad achieved under the most challenging of circumstances during the last FIFA World Cup campaign was exceptional, and we are delighted that we have secured his services for a further four years.
"Football Australia is ambitious, where we expect continued progress and results from our senior and youth national teams, and through our discussions with Graham over recent weeks, we know our thinking is aligned on the future direction of Australian football and the Socceroos."
James Johnson, Football Australia's chief executive, noted Arnold had "contributed to some of Australian football's most iconic moments", but that "his exploits as the Socceroos head coach have propelled him into a league of his own."
Arnold said: "I love Australia and I love Australian football, and nothing in football can ever match the elation, pride and sense of achievement I and the entire set-up felt in Qatar.
"The hunger to continue in the role has never been stronger and I know I have more to give to the Socceroos' programme and Australian football, where I want to deliver more smiles for our fans as we did in Qatar.
"I approach the next four years with a clean sheet, which is underpinned by a burning ambition to provide more opportunities to our leading emerging and established talent, whilst challenging for major titles starting with the AFC Asian Cup in Qatar next year."
Arnold explained he hopes Australia's performance at the World Cup convinces the country's government to allocate more funding to the sport and establish a permanent base for the Socceroos.
"It's crazy to think the Socceroos don't get any high-performance funding from the government," he told reporters.
"They don't have a home. How can you have a football culture if you don't have a home?
"Funding will help the programmes but the home of football is crucial. It's something as a sport we've missed out on. We've got nothing, nowhere to go."
Arnold has won 30 of his 51 games in charge of Australia, with his 59 per cent win rate the highest of any of the 12 coaches to have overseen the Socceroos on more than 20 occasions.
Tags