Scaloni claims Italy did not deserve to miss out on World Cup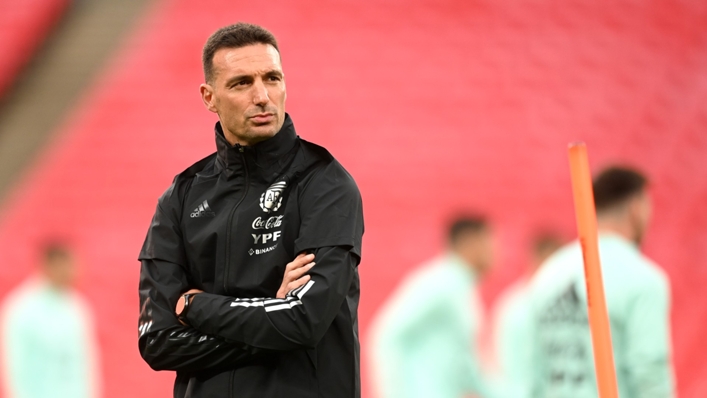 Argentina coach Lionel Scaloni says Italy did not deserve to miss out on the World Cup, while he cannot see Paulo Dybala being distracted by speculation over his future.
Euro 2020 winners Italy and Copa America champions Argentina meet in the 'Finalissima' at Wembley Stadium on Wednesday.
But there is no chance of the pair meeting in Qatar next November after Italy failed to make a second straight World Cup following play-off defeat against North Macedonia in March.
That led to questions over Roberto Mancini's future and the Italian system for failing to produce young players, with the Azzurri reliant on experienced campaigners such as Giorgio Chiellini and Ciro Immobile.
Scaloni was quick to back his opposite number Mancini as he expressed his dismay at Italy faltering in World Cup qualification.
"Italy did not deserve not to go to the World Cup, they are still European champions, a great team," Scaloni told reporters on Tuesday.
"There are games in which the ball does not want to enter the goal, and that's how the games are lost. But Mancini has done a great job, restoring a clear identity to Italy after so many years.
"I don't think he will make a lot of changes now, rather it will gradually change as we did: it happens to all national teams sooner or later that they have to change. Now they can start over."
Meanwhile, Dybala is heading for the exit door at Juventus when his contract expires in June, with Inter reportedly the favourites to sign the Bianconeri talisman.
As speculation persists over the future of the Argentina forward, Scaloni insisted that will not impact Dybala's performances for his country.
"These are situations that we have all had," Scaloni said of Dybala. "The important thing is that the players choose with their heads and then play.
"They are professionals and know how to manage certain situations. He is an extraordinary player and boy. He didn't play as much with us as we wanted, but we hope he will be a good choice for us in the future."
Tags