Scaloni lauds Albiceleste mentality as Messi vanquishes Socceroos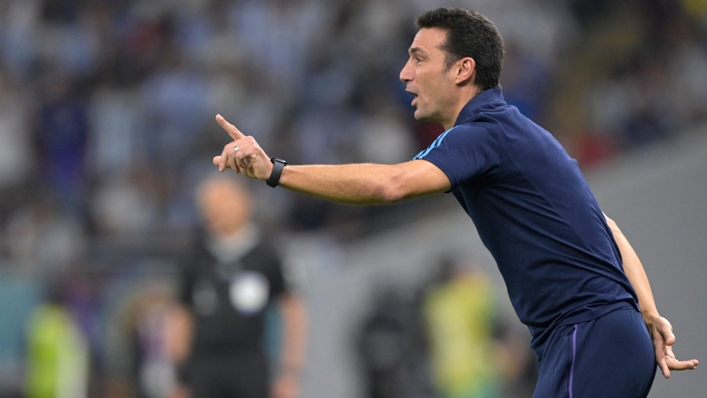 Argentina head coach Lionel Scaloni said his players were born to handle high-pressure World Cup contests after Lionel Messi led them to a 2-1 win over Australia in the last 16.
Messi scored his ninth World Cup goal – and his first in a knockout tie – as Argentina edged out Australia at Ahmad bin Ali Stadium on Saturday, with Julian Alvarez also getting on the scoresheet following a mistake from Mathew Ryan.
Argentina will now face the Netherlands for a semi-final place on Friday, a prospect which appeared unlikely when they began their campaign with a stunning defeat to Saudi Arabia 11 days ago.
Asked how the Albiceleste had managed to turn their tournament around, Scaloni said: "What I said before the Mexico match was that these guys were born to play these games.
"Argentina have played three games which were very intense, where being knocked out was a reality. But these players are capable. Sometimes the urgency and anxiety makes you feel different.
"Even if things happen like the Saudi Arabia game or the Australia goal today, we have to keep believing in our football.
"There is no pressure in football, that's how I see it. Pressure is something else.
"If you've watched Argentina today, these are memories which will stay with you forever. You've seen these young players, and also Leo, playing beautifully."
The next hurdle for Argentina to overcome will be a heavyweight tussle with the nation they beat in both the 1978 World Cup final and the 2014 semi-finals.
While Scaloni acknowledges the Oranje's current crop may not be as easy on the eye as some of their predecessors, he expects a tough test against Louis van Gaal's men.
Asked about Van Gaal's qualities, Scaloni said: "I was a young player at Deportivo La Coruna when he was coaching at Barcelona. He's a great coach and many have to try to take a page from his book. It's a pleasure to face him at a World Cup.
"Today we saw the Netherlands match. They probably don't play as beautifully as some older Dutch teams, but they have very strong points that they will try to use.
"It will be a beautiful game between two historic national teams, and one will be knocked out, unfortunately."
Argentina are hopeful of receiving a fitness boost ahead of Friday, with Scaloni revealing Angel Di Maria – who was an unused substitute on Saturday after suffering a thigh injury – could return.
"I didn't think we were going to help anyone by bringing him on today," he said of Di Maria. "We hope that in the next few days he keeps evolving and he can make it for the next match."
Tags