Antetokounmpo scores an even 50 in Bucks blowout victory
Liam Phillips
Stats Perform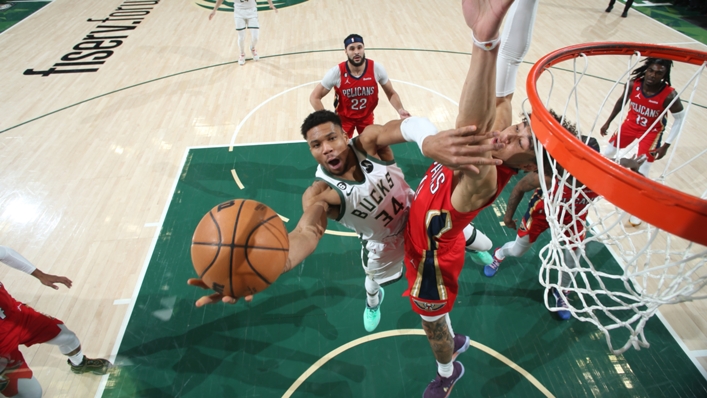 Two-time MVP Giannis Antetokounmpo was an unstoppable force on the offensive end as his Milwaukee Bucks collected a 135-110 home victory against the New Orleans Pelicans on Sunday.
Antetokounmpo scored a game-high 50 points on 20-of-26 shooting, hitting three of his four attempts from downtown while adding 13 rebounds and four assists.
It was the sixth time in the Greek superstar's career that he had reached 50 points, and the second time this month after setting a new career-high with 55 points against the Washington Wizards on January 3. Antetokoumpo is averaging a career-high 31.7 points per game, placing him third in the league.
The contest got out of hand early as the Bucks jumped out to a 37-19 lead at the end of the first quarter, with Antetokounmpo scoring 16 of his side's first 21 points.
Fans were treated to a shootout in the third period as the two teams scored 44 points each, but the undermanned Pelicans did not have the firepower to keep up, with not a single player from the away team reaching 20 points.
With the victory, the Bucks improved their record to 33-17 – the fourth-best in the league – while the Pelicans dropped their eighth in a row to slip to 26-25, occupying the eighth seed in the West.
Grizzlies storm home in comeback win
Ja Morant posted his second consecutive triple-double to lift his Memphis Grizzlies to a stirring 112-100 comeback win at home against the Indiana Pacers.
Morant dished 15 assists in his second-highest tally of the season to go along with 27 points (nine-of-21 shooting), 10 rebounds and two steals.
The Grizzlies needed every bit of his heroics as they found themselves trailing by 16 early in the third quarter, before finishing the game on a 60-32 run as they won the third period 30-17 and the last 32-21.
Memphis are now 32-18, and the only Western Conference side within six games of the top-seeded Denver Nuggets (34-16).
Rozier ignites Hornets upset
The Charlotte Hornets have now won four of their past six after an upset 122-117 triumph against the visiting Miami Heat.
Terry Rozier was the star of the show, scoring a game-high 31 points on 11-of-19 shooting with seven assists and six rebounds, while 24-year-old former lottery pick P.J. Washington showed promising signs on his way to 27 points (11-of-19), six rebounds and five assists.
Jimmy Butler was terrific for the Heat, shooting 11-of-14 from the field for his 28 points, seven rebounds and three steals, but it was Miami's defense that was the issue, allowing Charlotte to shoot 54 per cent overall.
Tags