Real Madrid boss Ancelotti claims Vinicius deserves more respect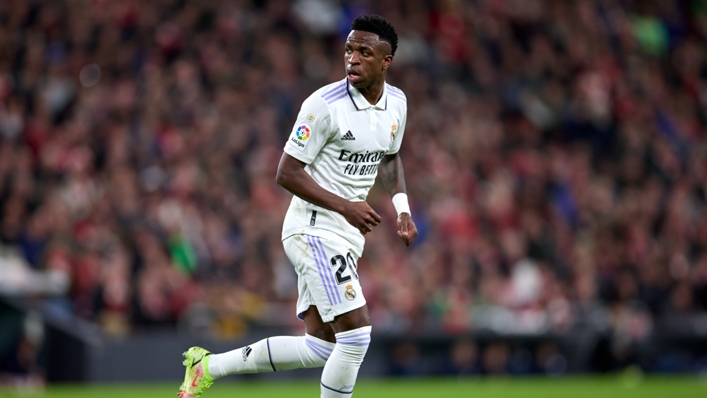 Vinicius Junior deserves more respect than he is afforded, according to Real Madrid boss Carlo Ancelotti.
The forward endured something of a muted outing in the 2-0 win over Athletic Bilbao at San Mames Stadium on Sunday, contributing just one shot and being shown a yellow card.
However, no player won more than his six fouls, with the 22-year-old on the receiving end of some hefty challenges.
Ancelotti went on the defensive when asked for his thoughts on Vinicius and reinforced his affection for the attacker.
"He is a very sensitive person, and [yet], everyone pushes him," he said. "Rival players, rival fans and sometimes even the referees.
"Tonight, as always, he has been kicked around a lot. But he will get better in this regard. Right now, everyone is putting pressure on him.
"It may be that he sometimes loses concentration, but he is a very young boy. I love him very much and I want him to be respected a little more."
Goals from Karim Benzema and Toni Kroos delivered the goods for Madrid on the road, though the latter did not score until the closing stages.
It meant the visitors were forced to protect their slender lead secured through the France international's delightful volley.
The goal took Benzema joint-second on Madrid's all-time LaLiga scorer charts and Ancelotti was keen to pay tribute to his skills too after a tough end to 2022.
"He has returned with all his quality [after his injuries]," he added. "It brings us a lot, and we are very satisfied."
Tags