Ancelotti concedes European clubs cannot keep up with Premier League spending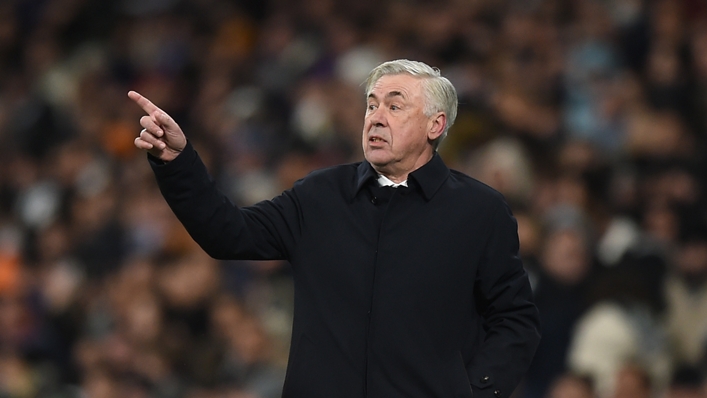 The Premier League will always lead in Europe when it comes to transfers, but Real Madrid boss Carlo Ancelotti vows his side will not surrender easily.
Clubs in the English top flight spent over a record-breaking £800million during the January window, led by a slew of big-money moves from Chelsea, who broke the competition's transfer record by signing Enzo Fernandez.
The financial outlay to bring in players to the Premier League saw the competition outspend the combined totals of LaLiga, Ligue 1, Serie A and the Bundesliga.
Speaking ahead of his side's Thursday clash with Valencia, Ancelotti suggested European clubs will always trail those across the English channel when it comes to spending sprees, though noted the Premier League teams will not necessarily dominate in UEFA competitions.
"We know what happens there," he said. "With the television rights, they can spend higher amounts. It will continue like this.
"Europe will follow the Premier League, it gives them an advantage.
"Even so, the competition against them, in Europe, it will not end."
Ancelotti's side are preparing for a busy four-week period that will see them juggle matches across four competitions, including the Club World Cup.
Though Madrid are ready to rise to the challenge, Ancelotti said the congested schedule laid out by UEFA and FIFA is a pressing concern for big clubs.
"We're in the semi-finals of the Copa del Rey, the last 16 of the Champions League and the Club World Cup," he added. "We don't throw away competitions.
"It is a [tough] calendar. LaLiga wants to do its thing, FIFA wants to do its thing, UEFA wants to do its thing. It doesn't let us have days off.
"The calendar is a very serious issue. We are excited to fight in all these competitions, but the calendar limit is being exceeded. We have to do something to avoid this."
Tags