Ancelotti: Benzema, Vinicius and Rodrygo comparable to Ronaldo-Bale frontline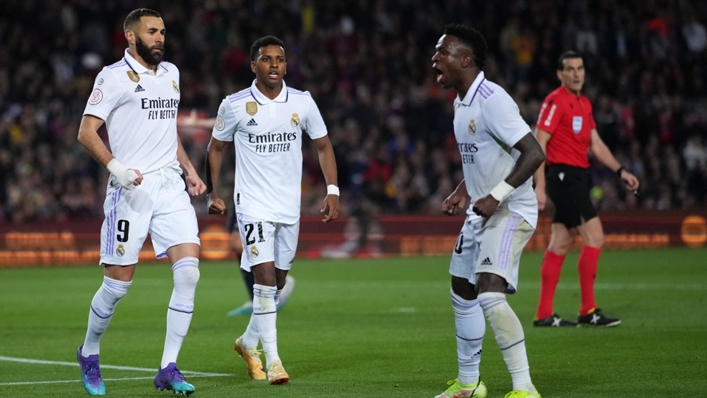 Carlo Ancelotti compared Karim Benzema's relationship with Vinicius Junior and Rodrygo to the one the striker shared with Cristiano Ronaldo and Gareth Bale, after his first-half hat-trick helped Real Madrid down Almeria.
Benzema needed just 42 minutes to complete another treble in a 4-2 win over the LaLiga strugglers, benefitting from fine assists from Vinicius and Rodrygo before converting a penalty.
Rodrygo then added a spectacular fourth from range, while goals from Lazaro and Lucas Robertone ensured Almeria kept the scoreline respectable at the Santiago Bernabeu on Saturday.
After the game, Ancelotti was asked whether Madrid's current forward trio could match the talents of those who fired Los Blancos to four Champions League titles in five seasons between 2013-14 and 2017-18.
"It's a good question," the Italian said. "They are similar in effectiveness and quality, with different characteristics of the players.
"It's a different trio, but they are both very good. The 2014 trio was very dangerous and the trio now is also very dangerous."
Having also scored hat-tricks in resounding wins over Real Valladolid and Barcelona this month, Benzema has three trebles in eight games for Madrid – as many as he hit in his previous 120 club matches.
Asked about the Ballon d'Or holder's display, Ancelotti said: "Benzema is in good shape and he has shown it.
"In attack we are very good, we are dangerous. Even while we are well behind [in LaLiga], the team comes out very well in offensive terms."
Tags