Alonso hurting after engine failure compounded by time penalty in Canada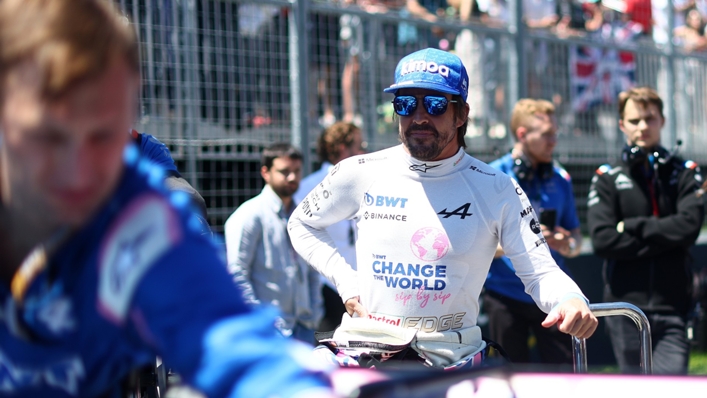 Fernando Alonso lamented another engine problem that "hurts a lot" after struggling at the Canadian Grand Prix, where he was demoted to ninth following a time penalty.
The Alpine driver produced an incredible drive on Saturday to secure second on the grid behind Max Verstappen.
However, Alonso fell away on Sunday as Verstappen held off the push of Carlos Sainz to claim his sixth win of the season and mark Red Bull's best start to a Formula One season.
Alonso initially finished in seventh in Montreal, but was handed a five-second time penalty after he was deemed to have made more than one change of direction while protecting against Valtteri Bottas.
The Spanish veteran believes he could have fought for a place on the podium if it was not for an engine problem with his A522 car.
"It was a pretty good race in terms of pace, I think we could have fought for the podium, seeing that [Lewis] Hamilton finished there and we were ahead of him in a more or less controlled way, but from lap 20 we had a problem in the engine," Alonso said.
"It was an energy issue that cut the KERS in the middle of the straights, more or less I lost eight-tenths of a second per lap.
"To be on the DRS train with [Esteban] Ocon and [Charles] Leclerc, the truth is that in the bends I had to go to the top and well, keeping the seventh position was a miracle at the end.
"Having this reliability problem today, another engine problem in my car, the truth is that it hurts a lot.
"We didn't have any luck with the safety cars either. I was just passing through the finish line and the safety car came out and just when I was going back to enter the pits, it was over.
"Luck was not on our side today, as usual."