Alonso hopes the best team wins out of Liverpool and Real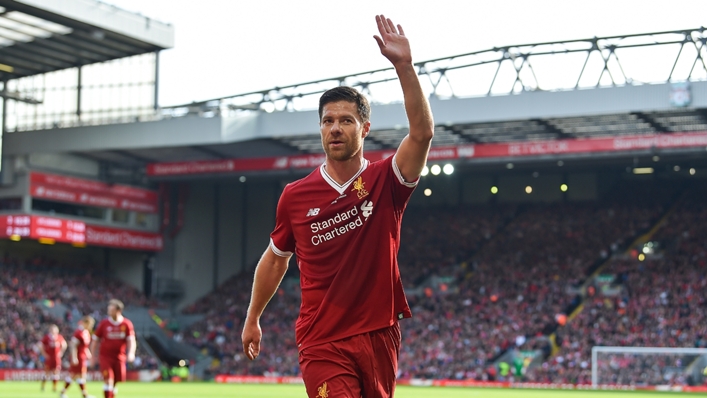 Former Liverpool and Real Madrid midfielder Xabi Alonso says both teams should be described as "mentality monsters" ahead of Saturday's Champions League final.
Alonso played for Liverpool between 2004 and 2009, before moving to Madrid where he also spent five seasons, winning the Champions League with both clubs.
The English and Spanish giants meet at the Stade de France at the weekend in a repeat of the 2018 final, which Madrid won 3-1 in Kyiv.
Speaking to BT Sport, Alonso expressed his admiration for Reds boss Jurgen Klopp and his ability to get the most from his team.
"Jurgen, I have played many times against him," he said. "He is intense, he is very passionate and I think that one of his best qualities is that he is able to get the best from his players and he is able for them to commit in a very generous way and create proper teams.
"Each manager, I think they have their own way, their own book. Some managers, they do it on a tactical way, on a very analytical way. There are others that like to create more of that connection, to give that freedom, but you need to know the players.
"You need to be able to give them the right recipe for them to show their best level. That's the beauty - you don't have just one way, you have many different ways and Carlo [Ancelotti] is different to Jurgen, Jurgen is different to Pep [Guardiola], Pep is different to Thomas Tuchel to Xavi, so they are all different."
Klopp regularly refers to his Liverpool team as "mentality monsters" in relation to their ability to respond to adversity and find a way to win, and Alonso believes this is an accurate assessment, but also feels Ancelotti's men have the same attribute.
"I love when Jurgen says that they are 'mentality monsters' because to do what they are doing, it is not easy," he said. "It's not just this year, it's what they have been doing for the last few years and they have that mentality.
"But, another thing is the final. The final, it is a big one and when you need to show that mentality because Madrid, they are other mentality monsters, so it's a big, big clash that we are going to have. Enjoy it.
"I was in Kyiv a few years ago and it was great to enjoy with two of my teams. It's not all about the final, it's also about reaching the final and enjoying it with the crowd. I was there with friends from Madrid and friends from Liverpool and I am kind of in the middle of both teams, so I will win whatever happens.
"[They are] both great teams, they both deserve [to win] so I will feel for one not to get it.
"We will see. It's the Champions League final so just enjoy it."
Tags