AFC Championship Game win adds to injured Mahomes' 'already great legacy'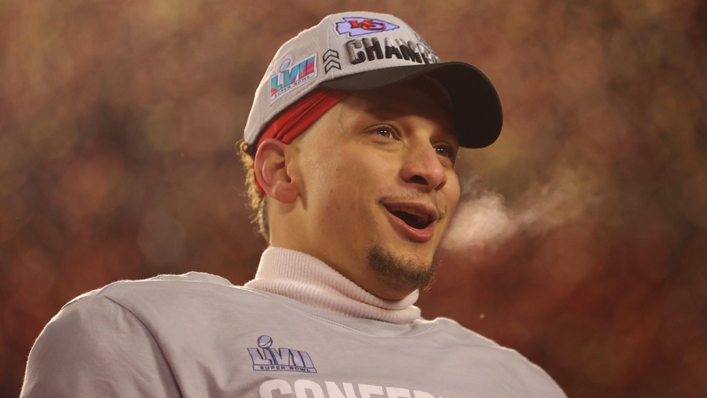 Patrick Mahomes "definitely didn't feel good" in the Kansas City Chiefs' AFC Championship Game win, but his performance added to "an already great legacy", according to general manager Brett Veach.
Superstar quarterback Mahomes sustained a high ankle sprain in the Divisional round victory over the Jacksonville Jaguars.
That sort of injury would generally bring about a spell on the sidelines, but Mahomes was determined he would not miss Sunday's game against the Cincinnati Bengals, who had won at Arrowhead Stadium last year to reach the Super Bowl.
While clearly limping in the second half, Mahomes battled through to finish with 29-of-43 passing for 326 yards and two touchdowns in a 23-20 Chiefs success.
Most notably, a painful five-yard run in the final seconds of the game was followed by a shove from Joseph Ossai that prompted a 15-yard penalty to put Harrison Butker in field-goal range to snatch victory.
Mahomes' fellow Chiefs were in awe of his commitment, including GM Veach, who said: "People don't realise how hurt he was.
"We all saw the injury. High ankles are terrible injuries, and sometimes guys miss two, three weeks, and he was out there and running for a first down and a big play in the game that got us in field-goal range.
"But it just adds to an already great legacy."
Mahomes' pain was not in doubt for those watching, but he emphasised afterwards: "I definitely didn't feel good.
"I think the worst one was when I fumbled. I tried to pick it up, and that was probably the worst I tweaked it during the game.
"[The team] got me as close as they could to 100 per cent. Then I just battled through, and I'll have a few more weeks to get it ready [for the Super Bowl]."
Tags