Rodgers looks primed to win MVP after first-team All-Pro selection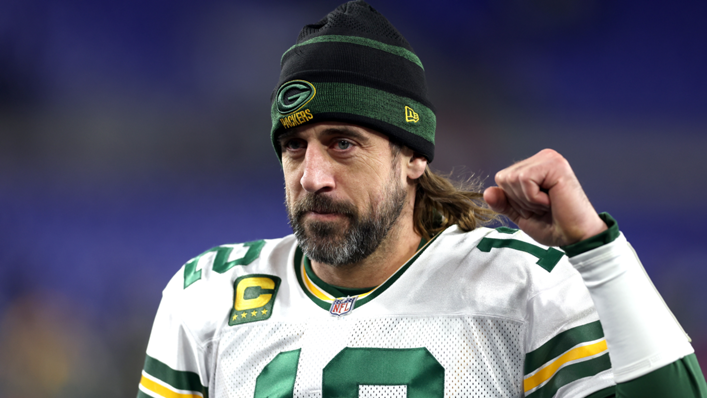 If the All-Pro team is anything to go by, Aaron Rodgers is set to win the NFL MVP in a landslide.
The Associated Press announced the league's All-Pro team on Friday, the regular season having come to a dramatic conclusion last Sunday.
Rodgers, having enjoyed another stunning season for the NFC's top seed the Green Bay Packers, unsurprisingly was named as the first-team quarterback.
He earned 34 of the 50 votes and, with the same voters casting their ballots for MVP, Rodgers looks a shoo-in to claim that award for the fourth time.
One voter, Hub Arkush, had said he would not vote for Rodgers following a season in which the QB courted controversy after he tested positive for coronavirus having previously stated he was "immunised" against the virus when he is in fact not vaccinated.
But few look set to follow that lead and take their vote away from Rodgers on this evidence.
His team-mate and favourite target Davante Adams was one of five players to be unanimously named first-team All-Pro.
Adams was joined in that regard by Los Angeles Rams wide receiver Cooper Kupp, NFL rushing champion Jonathan Taylor of the Indianapolis Colts, Pittsburgh Steelers edge rusher T.J. Watt and Rams defensive tackle Aaron Donald.
All-Pro First Team in full:
Quarterback: Aaron Rodgers, Green Bay Packers
Running Back: Jonathan Taylor, Indianapolis Colts
Tight End: Mark Andrews, Baltimore Ravens
Wide Receivers: Davante Adams, Green Bay Packers; Cooper Kupp, Los Angeles Rams; Deebo Samuel, San Francisco 49ers
Left Tackle: Trent Williams, San Francisco 49ers
Right Tackle: Tristan Wirfs, Tampa Bay Buccaneers
Left Guard: Joel Bitonio, Cleveland Browns
Right Guard: Zack Martin, Dallas Cowboys
Center: Jason Kelce, Philadelphia Eagles
Edge Rushers: T.J. Watt, Pittsburgh Steelers; Myles Garrett, Cleveland Browns
Interior Lineman: Aaron Donald, Los Angeles Rams; Cameron Heyward, Pittsburgh Steelers
Linebackers: Micah Parsons, Dallas Cowboys; Darius Leonard, Indianapolis Colts; De'Vondre Campbell, Green Bay Packers
Cornerbacks: Trevon Diggs, Dallas Cowboys; Jalen Ramsey, Los Angeles Rams
Safeties: Kevin Byard, Tennessee Titans; Jordan Poyer, Buffalo Bills
Placekicker: Justin Tucker, Baltimore Ravens
Punter: A.J. Cole, Las Vegas Raiders
Kick Returner: Braxton Berrios, New York Jets
Punt Returner: Devin Duvernay, Baltimore Ravens
Special Teamer: J.T. Gray, New Orleans Saints
Long Snapper: Luke Rhodes, Indianapolis Colts