49ers star Samuel not too concerned over groin injury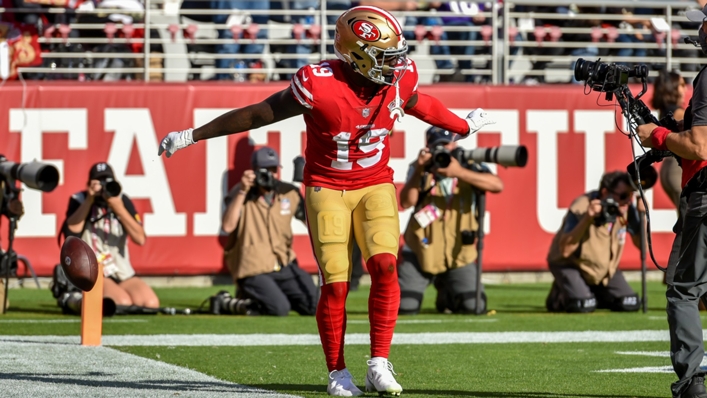 San Francisco 49ers star Deebo Samuel is not overly concerned about the severity of a groin injury he suffered in Sunday's victory over the Minnesota Vikings.
Samuel, whose breakout season has seen him emerge as one of the most valuable offensive players in the NFL, again produced an instrumental display as the Niners claimed their third straight win.
The versatile wide receiver surpassed 1,000 receiving yards for the season and had 66 rushing yards and two touchdowns in a thrilling 34-26 victory for San Francisco, which moved the Niners to 6-5.
Samuel now has 1,209 yards from scrimmage and 10 total touchdowns but was emotional coming off the field late in the third quarter after injuring his groin on a carry.
However, he was soon smiling on the sidelines and was in good spirits speaking to the media after the game, indicating he did not return to the action in order to avoid a more serious injury.
Asked about the level of concern over his injury, Samuel replied: "Not too much concern. I got an MRI and stuff in the morning. We'll just go see how it goes.
"My groin got kind of tight once I went to make a move. So I was just like, let's not make anything worse. And that's why I just went down."
Head coach Kyle Shanahan believed Samuel's initial response was mainly down to frustration, saying: "I think he was just disappointed. We have no idea what it's going to be like.
"I don't think it's as bad as you worry. We're hoping it's a low strain. He feels that it might be, he felt it, which that's what happened to Deebo on the first play of the game versus Washington last year. I think that's what happened to him in the fourth quarter versus New England.
"You can tell when he feels something, he stops right away. That's why I knew right away on the first step of that, that something was there, but by the time that he got to the sidelines, you feel like you saved a real bad injury. We'll have to find out tomorrow [Monday]."
The 49ers moved up to the six seed in the NFC playoff picture with the win, but head coach Kyle Shanahan cited the Niners' coronavirus-enforced late-season move to Arizona last year as an example of the unpredictability that prevents him from looking too far ahead.
"It's way too early to care. You look at that stuff at the end of the day, but what do we have left six games? Six games," he added.
"There's a lot left to be played. Last year at this time we were moving to Arizona, this Tuesday night. So, I'm fortunate for that. Hopefully these next two days nothing changes, but we were there for a long time."