49ers QB duo Purdy and Lance focused on recovery over future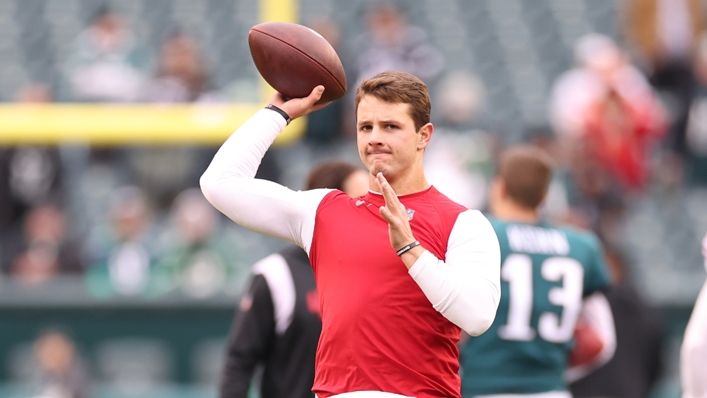 Injured quarterback duo Brock Purdy and Trey Lance are not concerning themselves over their San Francisco 49ers futures as they target full recoveries.
The pair picked up serious injuries during the 2022 campaign, with Purdy suffering a UCL tear in his right elbow during Sunday's NFC Championship Game defeat to the Philadelphia Eagles.
Starter Lance meanwhile lasted two games before an ankle injury against the Seattle Seahawks prematurely ended his season.
Neither are focusing on the team's long-term quarterback plans however, instead focusing their efforts on ensuring they return to full fitness ahead of the 2023 campaign.
"For me to claim or say anything in terms of what's going to happen moving forward, that's out of my control," Purdy said.
"I'm going to do what I can to get healthy and be ready to compete come fall.
"There are different options in terms of letting it recover, so we still haven't come to a conclusion about any of that.
"[I'm] working with our medical team now. But there's literally nothing that I know yet for sure that is set in stone."
Purdy is looking at a best-case scenario of six months out dependent on which course of rehabilitation the 49ers choose.
Lance meanwhile is hopeful of being ready ahead of team activities in May, with the quarterback due to have his walking boot removed at the end of the week.
"I plan on being 100 per cent," he added. "I feel like I'm in a really good spot. I'm sure [my future] will be a whole story again this year for you guys.
"But I'm excited to get back out there, excited to compete."
Tags